Port of Savannah Receives East Coast's Largest STS Cranes
The Port of Savannah has taken delivery of its latest set of STS cranes, and they are unusually big - the largest of their kind on the East Coast, and (according to the U.S. Coast Guard) the largest-gauge ever imported into the United States.
As part of its project to increase capacity at the Garden City Terminal, the Georgia Ports Authority has ordered a set of giant STS cranes from Finnish builder Konecranes. The first four arrived at their new home on Thursday.
The cranes are for a newly redeveloped section of the terminal's quayside. By straightening out a bend in the terminal's Berth 1, the port will be able to handle one extra 16,000 TEU vessel at a time, bringing its number of "big" berths to four (plus room for three more smaller boxships). This adjustment, combined with the conversion of the nearby Ocean Terminal to an all-container operation, should add about 1.5 million TEU per year of capacity. The work should be completed by July, according to the GPA.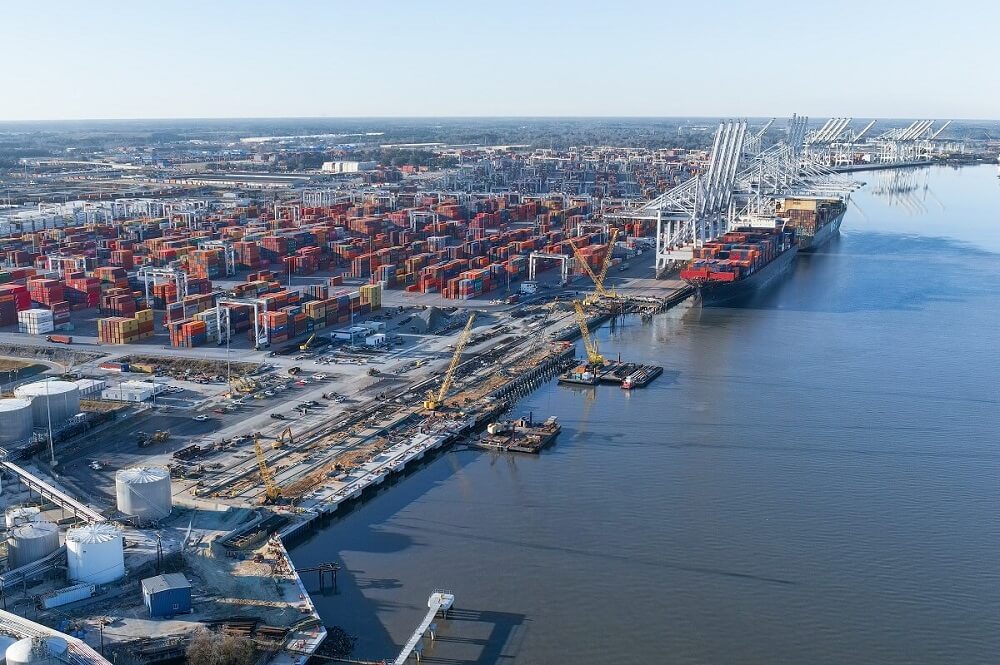 Construction under way on the realignment of Berth 1, 2022 (GPA)
Planning for the heavy lift delivery of the largest-gauge STS cranes yet imported into the U.S. took time, according to the Coast Guard. The agency put a to traffic to ensure security as the mega-ship BigLift Baffin went past.
"Coast Guard Marine Safety Unit Savannah's dedicated team of regulatory experts have worked around the clock since November 2022 to review plans and meet with port partners to ensure that these new giant cranes safely arrive to the Georgia Port Authority Garden City Terminal," said Lt. Cmdr. Akaninyene Inyang, Marine Safety Unit Savannah prevention department head.
The Port of Savannah needs the extra berth capacity to keep up with the booming pace of its own expansion. Thanks to West Coast congestion and a surge in East Coast container traffic, it handled a record-setting 5.9 million TEU worth of containerized cargo in 2022. Trade volumes peaked in August at a monthly all-time high of 575,500 TEU. The port stayed so busy through the summer that it developed a backlog of dozens of ships, motivating the Georgia Ports Authority to move swiftly on capacity upgrades.
"It was a challenging year, but collaborative effort across Georgia's supply chain ensured cargo movement remained fluid," said GPA Executive Director Griff Lynch.