Port of San Diego Awards Contract for Microgrid Project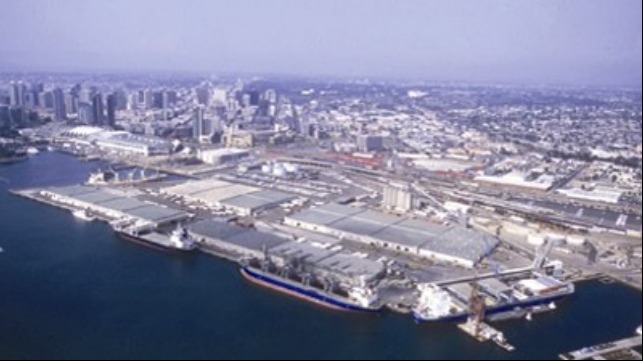 The U.S. Port of San Diego will soon begin infrastructure improvements to support future installation of a renewable, solar-powered microgrid at the Tenth Avenue Marine Terminal, one of the Port's two marine cargo terminals.
At its meeting on February 12, 2019, the Board of Port Commissioners awarded a nearly $1.6 million contract to Chambers, Inc. to replace the roof of warehouse B at the terminal. The work includes removal of the existing multiple-ply, built-up roof system and installation of a new, lighter and more durable single-ply Thermoplastic Polyolefin membrane roof system. Demolition on the warehouse roof is expected to begin in late March 2019 and the roof replacement is anticipated to be completed by December 2019.
The Microgrid Project will help to satisfy a key mitigation measure – requiring the use of renewable energy – identified in the Environmental Impact Report for the Tenth Avenue Marine Terminal Redevelopment Plan. The microgrid will also help the Port meet its greenhouse gas emissions reduction goals as established in its Climate Action Plan; improve air quality by advancing electrification powered by clean, solar energy; save the Port an estimated $168,000, or 60 percent, per year over current utility rates; and enable the operation of critical terminal infrastructure for approximately 12 hours without being connected to the larger electrical grid.
With installation anticipated by summer of 2020, solar photovoltaic panels will power the microgrid, which will also include battery energy storage, energy efficiency improvements, electrical infrastructure improvements, and a centralized microgrid controller. The microgrid will provide back-up power to Port-operated facilities, including security infrastructure, lights, offices and the existing jet fuel storage system, in support of the Port's role as one of 17 designated U.S. Strategic Ports, which means the Port of San Diego stands ready to support military deployment activities.
The microgrid project is being funded through a grant from the California Energy Commission (CEC), which includes $4,985,272 from the CEC, $4,427,973 in matching funds from the Port, and an additional $201,963 in matching funds from the University of California San Diego, a partner with the Port on the microgrid project. The total cost of the project is anticipated to be approximately $9,600,000.
The Tenth Avenue Marine Terminal specializes in break-bulk, refrigerated and dry bulk cargo. Phase 1 of the redevelopment, known as the Modernization phase, is underway and will make the terminal more modern, clean and efficient.