Port Everglades Plans $160M Shore Power System for Cruise Berths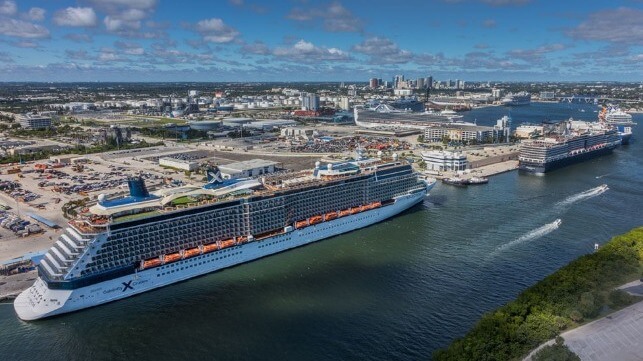 Port Everglades has completed a feasibility study for installing shore power at its eight cruise berths, a multi-million-dollar project that would deliver substantial emissions cuts.
The port brought in consultancy Moffatt & Nichol to lead the study, along with utility Florida Power & Light and cruise lines Carnival Corp., Disney Cruise Line and Royal Carribean Group. The plan examined the port's existing electrical grid and laid out the needed infrastructure upgrades to supply all eight terminals with 16 megawatts of electricity each. (For scale, that's the equivalent of the rated output of the world's largest offshore wind turbine, one per terminal).
"We have been exploring the possibilities of electrification since 2009 when we built Terminal 18 to homeport the largest cruise ships in the world," said CEO and Port Director Jonathan Daniels. "This technology speaks to our core values of strength, resiliency and sustainability. We are ready to harness this alternative for the good of our partners and our community."
Shore power will let Port Everglades' cruise ships turn off their auxiliary engines while they're in port, reducing emissions of NOx, SOx, PM and CO2. If fully implemented, the project would eliminate more than 11,000 tonnes of CO2, cut NOx by 75 percent and reduce SOx by half.
The project will unfold in phases, and it will require substantial funding. The estimated total cost (including utility infrastructure supplying the port) will be in the range of $160 million. The port plans to apply to state, local and federal agencies for cost-sharing support to help cover the expense. Construction could start next year at the soonest, and could be completed as early as 2027.
The port initiated the study on cold-ironing last year with a $495,000 agreement with Florida Power & Light, which paid for design services for the system's new substation and power distribution infrastructure.
"When we first explored shore power back in 2009, few of the cruise ships that came to Port Everglades were equipped to connect at that time, so it was premature to make a multi-million dollar investment. Now is the time as today's cruise ships being built for energy efficiency and the lines are retrofitting their older fleet with shore power technology," said Daniels at the time.