Port and Trucker Driver Strikes Paralyzes Finland's Foreign Trade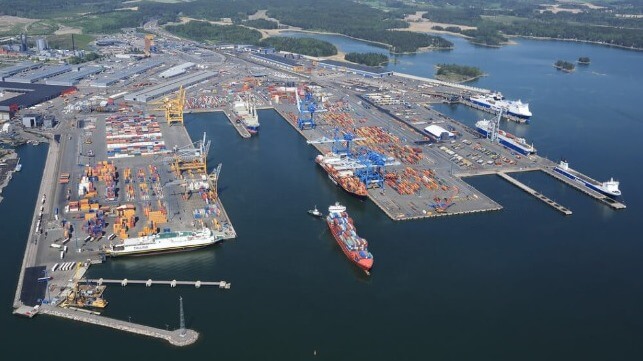 Workers at Finland's main ports as well as truck drivers walked off the job early on Wednesday, February 15, after their union reported that contract talks had broken down. The strike is expected to paralyze Finland's foreign trade and add further pressure to an economy that has already been impacted by the war in Ukraine.
The Finnish Transport Workers Union (Auto-ja Kjetusala Työntekijäliitto or AKT) said the issues centered around wages as well as some issues related to working conditions. Like their counterparts in 2022 at Felixstowe and Liverpool in the UK and Germany's ports, the Finnish stevedores are citing the cost of living and inflation saying that wages needed to keep pace. In December, Finland's inflation rate stood at just over nine percent.
The European Labor Authority mediator had stepped into the negotiations in hopes of finding terms for a new collective bargaining agreement. AKT said after walking out on the negotiations that the latest offers were insufficient in terms of both pay rises and other terms of employment.
The union, which represents approximately 1,800 stevedores, rejected the proposals on February 14 calling for workers to begin their strike at 6 a.m. Wednesday morning. The union said the strike will run indefinitely until terms can be reached with no new talks scheduled before Friday.
A few hours before the dockworkers began their strike, truck drivers that move the cargo, as well as petroleum products, also began their strike. With the union representing nearly all of the dockworkers plus the truck divers stopping work, there were widespread forecasts that Finland's foreign trade would effectively be halted.
Maersk issued a statement warning customers that all vessel operations in Finnish ports as well as gate movements and handling of containers within the terminals was now suspended.
The Finnish Port Operators Association is reporting that each day of the strike will impact more than $300 million in foreign trade. According to their calculations, 90 percent of the country's trade moves through the ports. Ten major ports, including Helsinki, Hamina-Kotka, Hanko, Rauma, and Turku, were all affected by the strike.
The Port of Helsinki had recently warned that due to a general weakening of economic outlooks, high inflation, the energy crisis, and the reduction of consumer purchasing power, it expected that cargo transport would slow down slightly in 2023 from the records achieved in 2022. Last year, the port had its highest volumes ever, topping 2018 records, with a total of 15.2 million tons of goods transported via the ports. More than 700,000 trucks and trailers moved the cargo with the ports of Helsinki reporting in total they handled a total of 492,000 TEUs. Passenger traffic more than doubled in 2022 as part of the rebound after the pandemic travel restrictions with the port highlighting strong volumes on the main routes to Estonia, Sweden, and Germany.