Ponant Presents Designs for Sail and Fuel Cell Powered Cruise Ship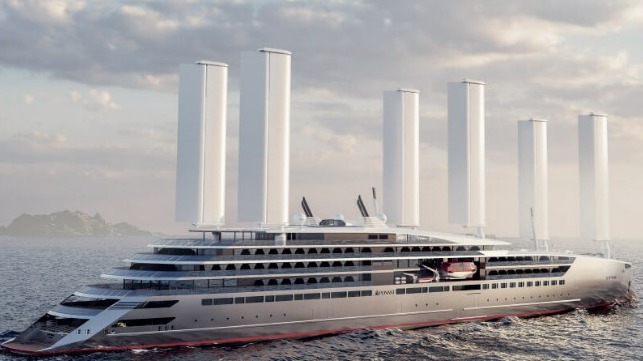 French cruise company Ponant presented two design concepts for a next-generation cruise ship that aims to reduce emissions and evolve toward carbon neutrality. The company reports that it is in discussion with select shipyards and expects the ship which will combine six decarbonization technologies will be ready by 2030.
The design is for a 594-foot cruise ship that would have 100 cabins for passengers and continue Ponant's global operations. The company was started in 1998 with a three-masted cruise ship Le Ponant. Today they also operate 10 diesel-electric cruise ships and one dedicated expedition icebreaker powered by LNG-electric hybrid engines.
"By 2030, our future ship aims to have zero greenhouse gas emissions when sailing, maneuvering, in port, or at anchor. Her carbon footprint will be reduced throughout her lifecycle. Renewable energy supplied by the wind and sun will be combined with low-carbon non-fossil energy associated with fuel cells," said Hervé Gastinel, CEO of Ponant.
The project, which is known as Swap2Zero (Sustainable, Wind-Assisted Propulsion, Zero-Emission Ready), was developed in cooperation with Stirling Design International. The design seeks to combine six technologies for decarbonization.
"Our in-house R&D team has brought together the best specialists in shipbuilding and renewable energy to imagine and develop an energy model that aims at zero emissions," said Gastinel. "With Swap2Zero, we are building a French technological showcase to convince other stakeholders to commit to carbon-neutral navigation."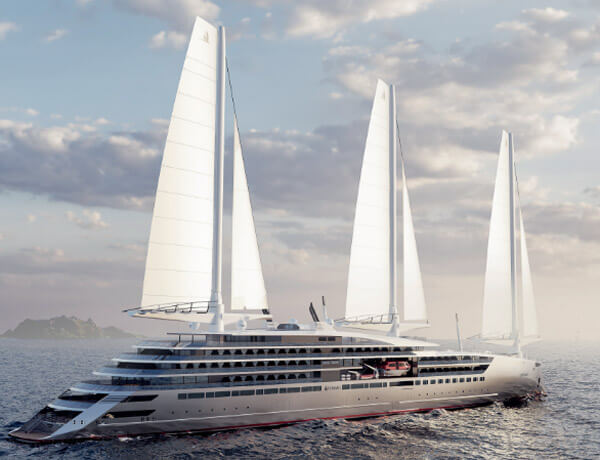 Second concept design uses three Solid Sail technology being developed by Chantiers de l'Atlantique (Ponant)
Renderings show two different sail systems currently under consideration. One proposes the use of six Ayro Oceanwings while the other uses three Solid Sail. The goal is to achieve 50 percent of the cruise ship's propulsion energy from wind power. A low-temperature fuel cell operating on liquid hydrogen would also supply propulsion power with the water and heat produced being recycled. A carbon capture system would be coupled with the high-temperature fuel cell.
Electrical power aboard the ship would come from over 1,000 square meters of photovoltaic panels using an organic solar designed device integrated into the structures and sails. A high-temperature fuel cell would provide power for the hotel load with the heat emitted being recovered and use to produce hot water.
All the systems aboard the ship would be managed by a control and power distribution system designed to operate without using generators.
Multiple companies including Royal Caribbean Group, MSC Cruises, and Viking have all begun testing fuel cells to generate power aboard cruise ships. Recently, Hurtigruten and its partners presented their designs for a zero-emission cruise ship that would use batteries, retractable sails with solar panels, and AI technologies. Hurtigruten is also targeting 2030 for the launch of its first zero-emission cruise ship.