Philippines Considers Joint Maritime Patrols With United States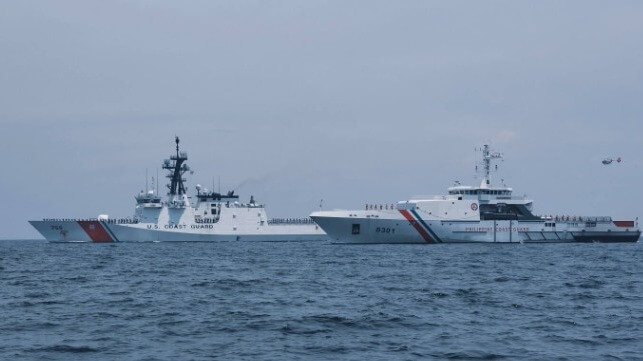 Amidst continued security concerns in the South China Sea, the Philippines is considering new joint maritime patrols with the United States, Philippine Ambassador to Washington Jose Manuel Romualdez said Thursday.
The two nations have a mutual defense agreement, and both conduct their own independent maritime patrols in the contested Spratly Islands. The U.S. Navy regularly challenges excessive Chinese maritime claims by dispatching destroyers on freedom of navigation operations (FONOPS), and the Philippine Coast Guard patrols the same areas to defend Philippine sovereignty. However, joint patrols could signal closer alignment between the two nations on the status of the South China Sea.
"I'm sure that at some point our defense establishment and the US defense establishment will come out with an operational plan to be able to have these joint patrols," said Romualdez in an interview. "Our [defense] agreement with the US is there, it's intact and if it requires for us to continue with our maritime security defense posture with having the US join us, we will do it."
The concept of joint maritime patrols may be unwelcome in Beijing: the Chinese government views the United States as a foreign interloper in Asia, and it objects to American efforts to contain China's maritime ambitions. The previous Philippine administration of President Rodrigo Duterte attempted to maintain warm relations with China by minimizing military ties with the United States and downplaying Chinese infringement on the Philippine EEZ.
The current Philippine president, Ferninand Marcos, Jr., has called for better protection for Philippine fishing interests within the Philippine EEZ, and in the absence of diplomatic solutions, that role falls to the Philippine Coast Guard. In order to reduce tensions with China, the PCG has taken on many of the maritime sovereignty and presence functions that were once part of the Philippine Navy's role. In comments at a commissioning ceremony for Philippine Coast Guard officers on Thursday, Marcos acknowledged that their work has become more challenging, a tacit nod towards Chinese pressure in the Spratly Islands.
"Now you are expected to defend not only the coastline but to defend our nationals," he said. "As many of the incidents have started to show over the past few years, that mission has become more, shall we say, intense."