Pentagon Confirms it is Sending an Extra Carrier to Israel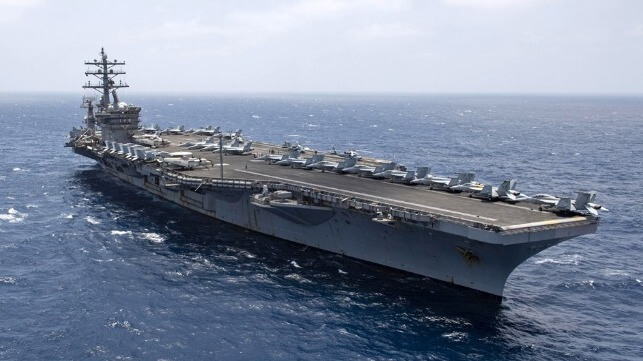 The U.S. Defense Department has ordered the carrier USS Dwight D. Eisenhower and her escorts to deploy to the Eastern Mediterranean, Secretary of Defense Lloyd J. Austin confirmed in a statement Saturday.
The deployment is part of the American effort to "deter hostile actions against Israel or any efforts toward widening this war following Hamas's attack on Israel," Austin said. The announcement confirms early press reports of Eisenhower's impending mission.
Accompanying commands include the cruiser USS Philippine Sea, the destroyers USS Gravely and USS Mason, and the nine aircraft squadrons of Carrier Air Wing 3.
The Eisenhower Carrier Strike Group will augment a growing accumulation of firepower off Israel's coast. Eisenhower will join the carrier USS Gerald R. Ford, the cruiser USS Normandy, and the destroyers USS Thomas Hudner, USS Ramage, USS Carney and USS Roosevelt, likely accompanied by attack submarines. The U.S. Air Force has also repositioned F-15, F-16 and A-10 ground-attack aircraft to the region.
"The increases to U.S. force posture signal the United States' ironclad commitment to Israel's security and our resolve to deter any state or non-state actor seeking to escalate this war," said Austin.
USS Eisenhower also brings the certainty of old technology, backstopping USS Ford if Ford's sophisticated machinery breaks down during its first test in combat. Ford is on her first full deployment, capping five difficult years of repairs to her weapons elevators, catapults, arresting gear and radar. The Defense Department's testing watchdog warned in January that the low reliability of Ford's advanced catapults, arresting gear, and jet blast deflectors still had an "adverse effect" on flight operations. The Navy believes that Ford has greatly improved her operational performance.