OSHA Fines Alabama Stevedoring Firm for Fatal Cargo Accident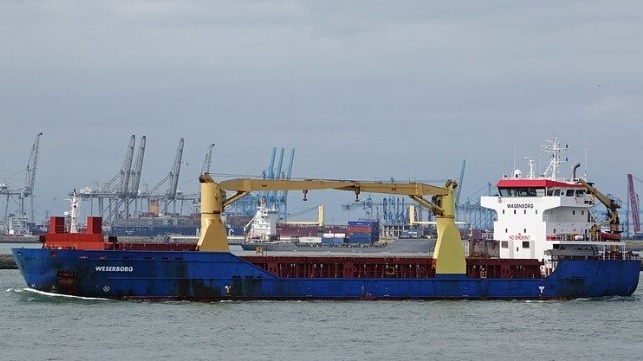 Investigators with the Occupational Safety and Health Administration (OSHA) have faulted a stevedoring firm in connection with a fatal cargo-handling accident aboard a bulker in Florida last year.
On September 11, 2022, three dockers from contractor Premier Bulk Stevedoring were loading rolls of paper aboard the general cargo ship Weserborg. The team was moving seven-foot-tall rolls of paper about five rolls at a time, each load weighing about two tons. During one hoisting evolution, the ship rolled, and the load crushed a 28-year-old stevedore against the bulkhead of the cargo bay. The victim did not survive.
OSHA found that the crew's crane operator did not have a clear view of the stevedores in the hold below. Its inspectors had already cited Premier Bulk Stevedoring once before in 2020 for a similar crane-operations violation, though the citation was deleted after a civil settlement.
For the second violation, OSHA has proposed a penalty of more than $40,000 for exposing employees to "struck-by and caught-between hazards from swinging loads," as well as failing to ensure that supervisors had accident-prevention training. The agency recommended keeping dockers away from hazards by establishing safety zones around the hoisting area.
"Less than two years ago, OSHA cited Premier Bulk Stevedoring for unsafe loading operations and our investigation into this tragic September 2022 fatality found the company again operating in a dangerous manner," said OSHA Area Office Director Jose Gonzalez in Mobile, Alabama. "Their failure to follow established safety procedures caused a young worker to needlessly lose their life."