OOCL Wins Environmental Award in Singapore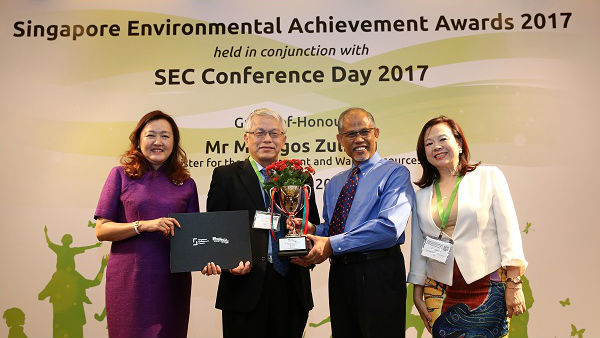 Container shipping company OOCL received top honors at this year's Singapore Environmental Achievement Awards. The company was presented with the Outstanding Singapore Environmental Achievement Award, an overarching award that recognizes one top performer among all award categories.
Recognized by the community as one of the most prestigious environmental award schemes in Singapore and the region, the Awards were launched by the then Minister for the Environment in Singapore, Yeo Cheow Tong, to honor outstanding organizations and companies for their overall environmental stewardship, management and performance. The awards also recognize leadership and innovation and how others are encouraged to adopt a more proactive approach towards managing the environment.
OOCL was also chosen as winner in the Maritime sector category, an award sponsored by the Maritime and Port Authority of Singapore, which recognizes maritime companies that have strong environmental management policies in place with a focus on industry leading initiatives and continuous innovation in their sustainability work.
OOCL is one of the world's largest integrated international container transportation, logistics and terminal companies. The company has strong environmental systems and procedures and sets clear environmental targets. OOCL has reduced its resource consumption across many environmental parameters and lowered its carbon emissions by 45 percent, while the use of solar panels has stopped 1,250 tons of CO2 emissions being released into the atmosphere.
Some of OOCL's other achievements include:
In 2017, OOCL launched one of the largest container ship in the world with carrying capacity of 21,413 TEU, equipped with advanced green features to meet future environmental requirements. The energy efficiency of the new ship not only satisfies the current Energy Efficiency Design Index (EEDI) baseline requirement, but is 48 percent better than the EEDI level required by the International Maritime Organization in 2025.

In order to reach higher standards and transparency in Greenhouse Gas (GHG) reporting, OOCL not only met the verification requirements of GHG Scopes 1 and 2, but also took a further step forward to meet a GHG Scope 3 requirement in 2017, focusing on indirect emissions associated to business travel by air.
To enhance fleet performance and efficiency, OOCL and CargoSmart have been using AIS signals and state-of-the-art tools to monitor all OOCL vessels through CargoSmart's Global Vessel Voyage Monitoring Centre in real-time to identify any operational issues or deviations that may affect service or schedule reliability.
To further promote environmental awareness through special events and projects, OOCL organizes "Green Week" in the first week of July each year for all employees to take part in environmental related activities. The company also supports the academic community as well as observatory and meteorological organizations in their oceanography and marine climatology studies to improve weather forecasting for the maritime community.

The company encourages sustainable economic development through innovative environmental care initiatives, supports the Ten Principles of the United Nations Global Compact and engages in the United Nations Sustainable Development Goals to tackle global environmental challenges.
Benefits of Environmental Action
Companies that fail to respond to the rise of ethical green consumerism in Singapore risk suffering reputation and brand damage as well as financial loss, a new paper has found. According to a paper developed by the Singapore Environment Council (SEC) andpartner KPMG Singapore, a wrong judgement call in just one aspect of a company's activities can have a negative impact on its reputation and financial future.
The paper titled Ethical Green Consumerism – Our Responses identifies three main risks caused by not acting ethically and sustainably at all points in a company's supply chain:
1. Environmental risks: These can take a variety of forms such as pollution or environmental degradation, waste disposal and recycling, water use in areas of water scarcity and compliance with environmental regulations.
2. Regulatory risks: Every country has its own regulations, so when companies are entering into supplier contracts across the globe, they can suddenly be in a regulatory compliance minefield. Regulatory changes have a significant impact on the ability to export, import, manage and track goods and services.
3. Reputational risks: Companies are placed under further pressure as a result of scrutiny by consumers. With the active presence of social media, news related to issues in supply chain can travel fast and mobilize public reaction.

The paper found many of these risks are caused by companies seeking to cut costs by using cheaper and more flexible suppliers. Failure to manage these risks can result in fines, insecurity of supply, higher insurance premiums or even reputational damage. Jen Teo, Executive Director of SEC said, "Increasingly, consumers in Singapore are refusing to buy products made in a way that is damaging to their health or the environment."
The companies which embrace sustainable and ethical practices will do better in the long run as more Singaporeans choose their products and services over their competitors, she said.