ONE Takes Delivery of First New Magenta Boxship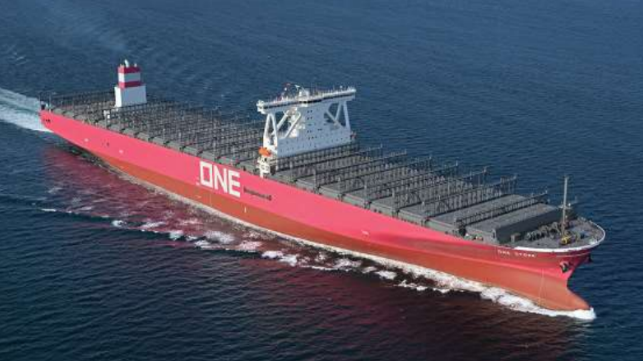 ONE, the merged ocean carrier comprised of NYK, MOL and "K" Line, has taken delivery of its first branded newbuild, the 14,000 TEU ONE Stork.
Japan Marine United's Kura Shipyard delivered the Stork to ONE member NYK this month. The carrier says that she has a specially-designed propulsion system that is capable of high and low output ranges for reduced fuel consumption and a flexible operating profile.
In a statement, ONE emphasized the vessel's eye-catching color. "ONE is excited to take delivery of first new-building containership with our new corporate colour, magenta. The magenta colour shows our intentional drive to do things differently and explore newness in this market," said Jeremy Nixon, CEO of ONE.
ONE, short for Ocean Network Express, combines the vessel fleets and ocean freight businesses of the top three Japanese carriers, NYK, MOL and K-Line. In 2016, the firms agreed to join forces in order to gain scale in an increasingly competitive market, and they have invested $3 billion in the joint venture. NYK holds the largest share, at 38 percent, and MOL and K-Line hold 31 percent each.
When it began operations on April 1, ONE became the world's sixth largest carrier, with 230 ships, 1.5 million TEU of capacity and seven percent of the global market. It is poised to leapfrog Hapag-Lloyd to take the position of fifth-largest carrier when its current orderbook is delivered.
Shippers and forwarders reported problems in April when NYK, MOL and "K" Line transitioned their booking activities to a new unified business operation. In a statement, ONE said that anti-trust rules had limited the partners' ability to work together to plan for the merger, and that it has added more staff to resolve the difficulties. "The merger of three global shipping lines was always going to be a challenge," ONE told Lloyd's. "Up to April 2018, all three lines were competitors and bound by anti-competition regulations which restricted the involvement of the majority of staff prior to the start of business."