One Killed in Rig Capsizing in Nigeria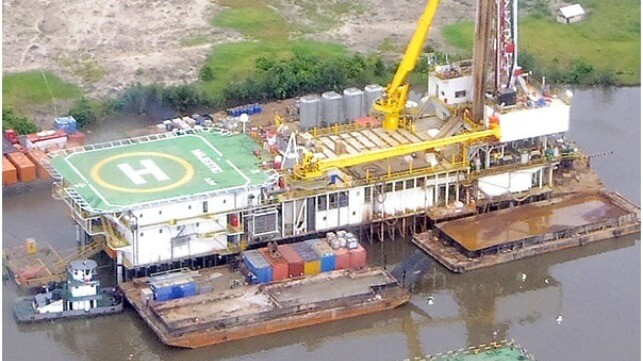 A drilling rig capsized in Nigeria's Delta State on Tuesday, killing one and leaving three missing, according to the charterer.
Nigerian oil company Seplat confirmed the incident in a statement Tuesday. "Seplat Energy regrets to announce a serious incident on the Depthwise swamp drilling rig 'Majestic' in the early hours of this morning. Seplat as the operator of the SEPLAT/NNPCL joint venture contracted the rig," the company said.
The rig was under way to a new drilling location at the Ovhor oil field - about 25 miles inland in the creeks of Delta State - when it capsized.
92 crewmembers were rescued from the rig, but one fatality occurred during the capsizing. Three more workers are missing, and search operations were under way Tuesday.
"Our thoughts and prayers are with the families and friends of the crew member who sadly lost his life and the three crew members who are still missing," said Seplat CEO Roger Brown in a statement.
Majestic is one of three swamp-specific drilling rigs operated by Depthwize, a shallow-water drilling company based in Lagos.
VIDEO: One Dead, Three Missing, 92 Saved As Seplat Drilling Rig Capsizes In Delta pic.twitter.com/3Gwlva2fjg

— The Whistler Newspaper (@TheWhistlerNG) August 15, 2023
Seplat plans to launch an investigation into the cause of the capsizing, and it is working with local authorities on the emergency response, Brown said.
Seplat is an independent Nigerian upstream and midstream company, and it is focused on purchasing maturing fields from oil majors. It has been working to acquire ExxonMobil's shallow-water assets in Nigeria, but the deal has been stalled since last year due to regulatory hurdles in Nigeria. The $1.3 billion sale would transfer a 40 percent stake in four producing license areas, and would be one of the largest divestments of Nigerian oilfield assets by a foreign oil major. It would quadruple Seplat's oil production to about 130,000 bpd.
The Nigerian National Petroleum Company Ltd. (NNPCL) holds the other 60 percent stake in the four licenses covered by the Seplat-Exxon deal. NNPCL has attempted to block the sale and claims that it has a priority right to buy Exxon's stake.