On Veterans Day, Royal Navy Pays Respects at Pearl Harbor Memorial
On Veterans Day, the crewmembers of the Royal Navy patrol vessels HMS Tamar and Spey paid their respects to the fallen by visiting the USS Arizona Memorial, the monument to the victims of the attack on Pearl Harbor.
On the morning of December 7, 1941, when Japanese forces staged a surprise raid on Pearl Harbor, the battleship USS Arizona was torn apart by a bomb. It penetrated her deck armor and detonated the battleship's forward magazine, tearing her in half and killing 1,177 crewmembers. All but 75 of the dead remain entombed within the wreck.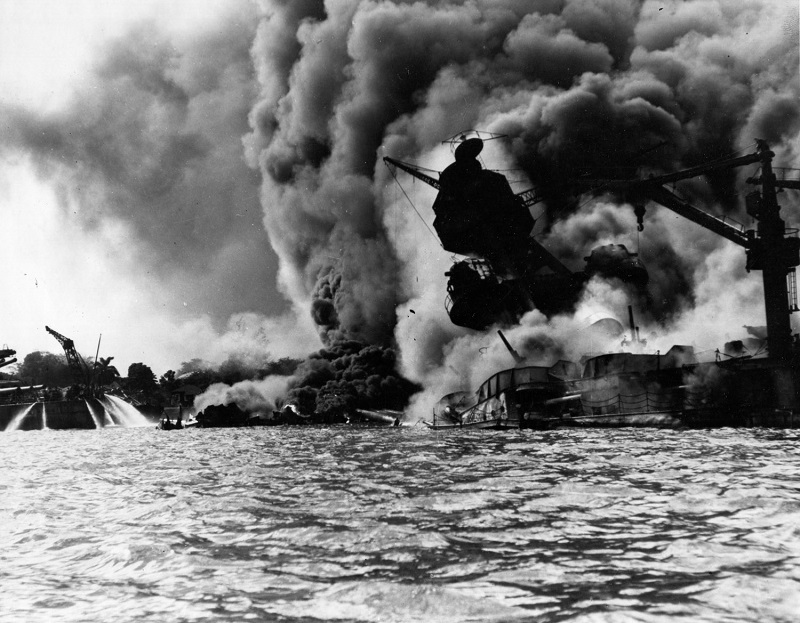 Wreckage of the USS Arizona, Dec. 7, 1941 (USN)
The sinking of the Arizona accounted for almost half of the American casualties in the Pearl Harbor attack, and the symbolic blow helped draw America into open war with both Germany and Japan. Three days after, the Royal Navy suffered its own first major hit from Japan when bombers sank the battleship HMS Prince of Wales and battlecruiser HMS Repulse off the coast of Malaysia, taking more than 800 lives.
After paying tribute at the USS Arizona Memorial, the crewmembers from Tamar and Spey were also invited aboard USS Missouri –the battleship which hosted the Japanese surrender in Tokyo Bay in 1945.
Crewmembers from HMS Tamar and Spey hold a remembrance ceremony at the USS Arizona memorial (Royal Navy)
Tamar and Spey are in Pearl Harbor for a logistics and maintenance stop before heading out across the Pacific. The two patrol ships will be forward-deployed in East Asia for five years, rotating between ports. They represent the first permanent Royal Navy presence in the region since the governance of Hong Kong was handed over to Beijing in 1997.