On National Maritime Day, Leaders Highlight Need for More Mariners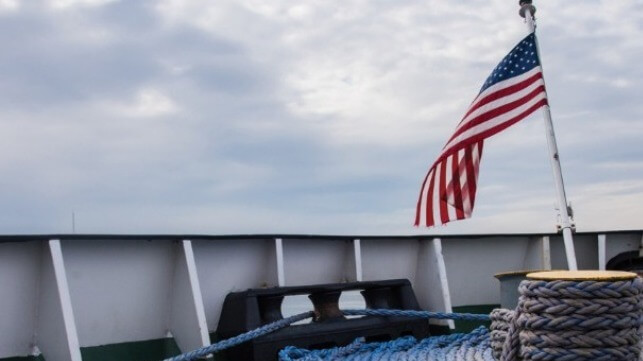 On National Maritime Day, America's maritime leaders take a moment of pause to recognize the critical role that U.S. mariners play in commerce and national defense. In peace and war, American mariners deliver, and they will always remain at the heart of the industry.
"Mariners are patriots. They are people of deeds, not words. They will be there for us when we need them. And when they are called they will rise to the occasion, taking cargoes to the four corners of the world, across contested seas, in support of our national defense," said the head of U.S. Transportation Command, Gen. Jacqueline Van Ovost, at a ceremony at Department of Transportation headquarters in Washington.
American mariners have played a quiet but essential role in keeping the nation safe throughout its history. During World War II, over 9,500 gave their lives to deliver the wartime supplies needed to defeat the Axis powers. In the decade following 9/11, U.S. government owned and U.S.-flagged vessels carried 52 million tonnes of supplies overseas for the wars in Iraq and Afghanistan. More recently, U.S.-flagged shipping has carried 70 percent of the weaponry provided by the United States to the government of Ukraine for its self-defense. American mariners and longshoremen also worked through the COVID pandemic without a shutdown, keeping the nation running (sometimes at personal cost).
"We would never have gotten through the last crisis without America's civilian transportation workers. And the Covid crisis did remind us that we live in a world where pandemics wars, natural disasters, economic calamities, or some other big event, could strike us with little warming. And in that uncertain world, the need for a strong US merchant marine with the best trained U.S. seafarers serving on U.S. flag ships is more important than ever," said Dan Maffei, Chair of the Federal Maritime Commission.
But mariners' key role in the national economy requires sufficient numbers, and maritime leaders are increasingly concerned that shipboard positions will be difficult to fill - especially in a surge sealift scenario.
"Our mariners - our people - are our greatest asset," said Adm. Anne Phillips, U.S. Maritime Administrator, in a keynote speech at Department of Transportation headquarters in Washington, D.C. "We are short the number of mariners needed in the event of a full mobilization exceeding 4-6 months, which is a very real scenario in a large-scale deployment."
MARAD is working to address the gap by addressing "longstanding infrastructure and cultural challenges" at USMMA, the main source of U.S. mariners with service oblications; pursuing policies to ensure equal opportunity and safety for all mariners in the industry, including female mariners; and investing in the establishment of the Cable Security Program (CSP) and Tanker Security Program (TSP), which have augmented the U.S.-flag fleet with 12 new hulls. This expands the number of billets set aside for U.S.-credentialed officers in peacetime.
To ensure cargo availability, MARAD is also supporting "effective implementation" of cargo preference requirements for government-impelled cargoes - a longstanding compliance challenge for the federal government's other departments.
Training and support for technological transition will also be required, according to Rear Admiral Wayne R. Arguin Jr. (USCG). As ships get bigger and sustainability requirements get more stringent, technological complexity is going to increase for shipping, he predicted. "Larger, more complex shipping will require a more technologically savvy mariner. We must recognize the challenges mariners face and provide the tools and training to support the next generation of mariners if we want to remain a maritime leader throughout the world," Adm. Arguin said.
American maritime leaders also used the occasion to highlight the economic and national security benefits of the Jones Act, which creates a stable market for ships that are built, owned, crewed and flagged in the United States.
"This National Maritime Day we are reminded that America, from sea to shining sea, needs a strong domestic maritime industry amid continuing economic challenges and growing national security threats," said Ku'uhaku Park, President of the American Maritime Partnership, the association of Jones Act shipowners. "Today is a day to thank our mariners and maritime workers for their sacrifices during wars, the pandemic, and other national emergencies. Though America is increasingly divided, there is one thing everyone can agree on – we cannot rely on China and Russia to build, own and crew our ships. The Jones Act fleet has served the country time and again and we are honored to represent an industry that serves such a vital economic purpose."