Oil Siphoning Operation Begins for Wreck of the Princess Empress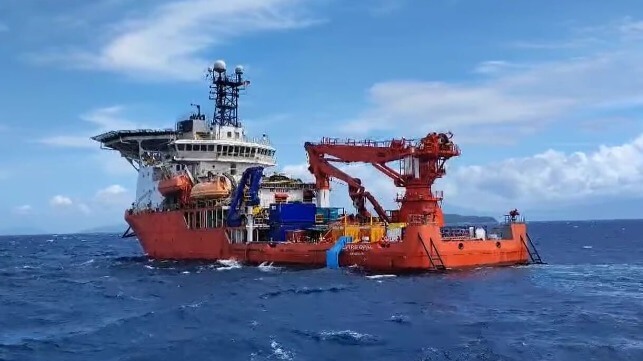 On Monday, the "siphoning" of the last residual oil aboard the wreck of the sunken tanker Princess Empress got under way off the coast of Oriental Mindoro in the Philippines.
At about 0900 hours, the dive support vessel Fire Opal arrived in Calapan. The vessel was chartered by Malayan Towage and Salvage, under contract to the Princess Empress' P&I club. After formalities were taken care of, the ship transited to the wreck site to start pumping the remaining oil from the sunken motor tanker.
According to incident commander Commodore Geronimo Tuvilla of the Philippine Coast Guard, the operation will take 20 to 30 days, depending on the weather conditions and progress on the wreck. An estimated 100,000 liters of fuel oil remains on board.
"Once the oil removal is completed, we hope that the process will pave the way for the rehabilitation of affected areas and finally transition to normalcy for affected Mindoreños," said Tuvilla.
The Princess Empress went down off Oriental Mindoro on February 28 with about 800,000 liters of fuel oil on board, and the Philippine Coast Guard believes that at least three out of her five cargo tanks leaked their contents into the sea. The resulting pollution wreaked havoc on the coastal villages of the province, which are reliant on fishing and tourism for income.
The Philippines' Maritime Industry Authority (MARINA) maintains that the Princess Empress did not have a valid operating permit for domestic trading at the time of the casualty, raising questions about the authenticity of the paperwork that the crew presented to the Philippine Coast Guard prior to departure on the accident voyage. In addition, the Philippines' justice department alleges that the product tanker was not a newbuild - as operator RDC Reield Marine Services claimed - but was rather a rebuilt "scrap ship" that had been purchased and converted. The owners maintain that the vessel was indeed a newbuild.