Oil Bottles Lead to AMSA Investigation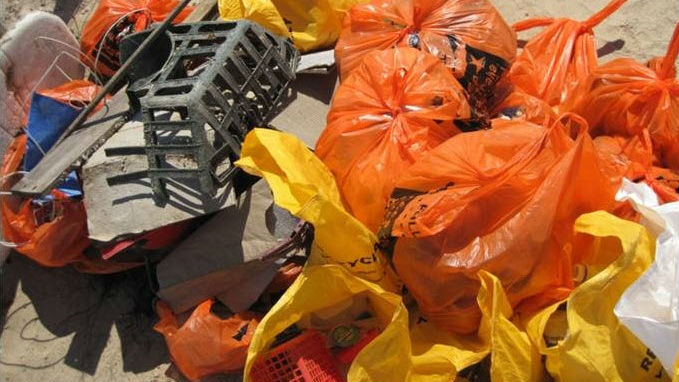 During the Western Australian Beach Clean-up event in October 2016, two bunker oil bottles were discovered in the Leeuwin Naturaliste National Park by volunteers. The following week, another two bottles were found in the same region by Margaret River locals. The oil bottles were still intact, full of marine fuel oil and with labels on them listing a vessel name, date and crew members' names.
Heidi Taylor, Managing Director of Tangaroa Blue Foundation said, "Volunteers provided photos and location details which we were able to quickly report to the Australian Maritime Safety Authority (AMSA) for potential investigation. This highlights the value of citizen scientists' observations while out in the field."
AMSA personnel were able to track the vessel, the Gloria Island, a bulk carrier registered in Panama, down and board whilst alongside at Thevenard in South Australia. Both the Master and Chief Engineer of the vessel were questioned at length and could not provide any explanation as to how the oil sample bottles made their way overboard. The vessel's processes regarding bunker oil sampling were also reviewed.
Members of the crew were then individually interviewed, and there were no reports of untoward behavior. All were aware of MARPOL requirements. As such, it was determined that there was insufficient evidence to detain the vessel, and the appropriate course of action would be to issue an improvement notice under the Navigation Act 2012 to the vessel, compelling the recipient to improve the on board Safety Management System, through review of procedures to ensure bunker oil samples are stored and disposed in a manner that does not cause pollution.
Brad Groves, AMSA General Manager of Standards said "Preventing the illegal discharge of waste from vessels is a key focus for AMSA in protecting the marine environment. AMSA's formal relationship with Tangaroa Blue means that we are able to act quickly when evidence of this kind is collected by volunteers. In this case the improvement notice that was issued will highlight to the vessel's owners that proper procedures must be followed to prevent pollution or they risk substantial penalties for future non-compliance."
Tangaroa Blue Foundation is an Australian registered charity focused on the health of the marine environment. The charity coordinates the Australian Marine Debris Initiative, an on-ground network of volunteers, communities and organizations around the country monitoring the impacts of marine debris along their stretch of coastline.
Since the program started in 2004, more than 6.7 million pieces of marine debris have been removed from the Australian coastline, and data on this debris has been collated into an Australian Marine Debris Database.
The database is used to firstly identify what is impacting different sections of the coast and then to track wherever possible where those items are coming from. Lastly, stakeholders are then brought together to work on practical solutions and create source reduction plans to stop marine debris from entering the ocean in the first place.
An estimated 18,000 pieces of plastic float in every square kilometer of ocean, says Tangaroa Blue.