NYK Tests Cruise Emergency Communications Tool
NYK has conducted a ship-to-shore connection test for a navigation support tool designed to boost communications during emergencies at sea.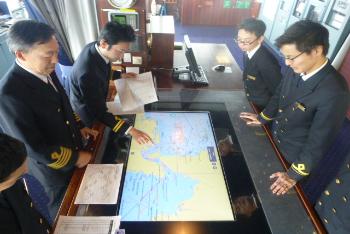 The system, J-Marine NeCST, has been developed in cooperation with the Monohakobi Technology Institute and Japan Radio. For the test, a fire was presumed to have occurred on the cruise ship Asuka II operated by NYK Cruises. The two J-Marine NeCST systems, one on board Asuka II and the other at NYK's Crisis Management Center in Tokyo, were connected via the internet, the fire emergency function was activated and an emergency checklist and fire control plan were immediately shared on synchronized screens. Prompt communication was then tested via the tool's chat function.
During an onboard emergency, particularly one involving fire, immediate and accurate communication between ship and shore is vital, says NYK. Currently, onboard crews must report on the ship's condition by phone, fax or email while also engaging the fire.
The J-Marine NeCST system also allows users to write directly onto electronic charts with a stylus pen. With the rollout of mandatory ECDIS, the idea is to mimic the practice where bridge officers write on paper charts. The new tool also integrates meteorological and hydrographic forecasts to support the preparation of optimal route plans.