NYK Invests in New Indonesia Port to Ease Congestion of Car Shipments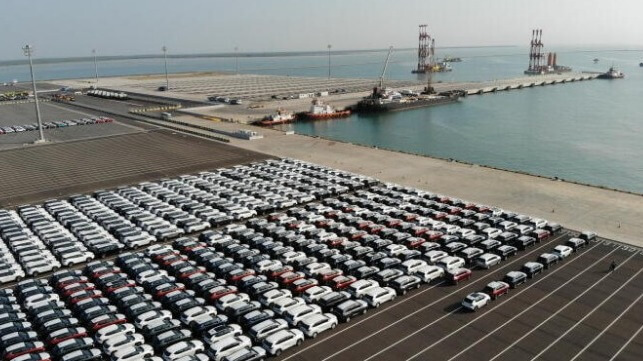 Three Japanese companies, including NYK and Toyota's car shipping operation Toyofuji Shipping, acquired two-thirds of the shares of a new Indonesian terminal that was opened just over 18 months ago in an effort to provide additional capacity in the region around Jakarta. NYK reports that it is investing in the port to optimize logistics services including for vehicles and construction equipment manufacturers.
"Tanjung Priok, another international port located in the Jakarta metropolitan area, has become chronically congested due to increased cargo volume. In addition, traffic congestion on the roads connecting the port and the Eastern Industrial Park in the eastern part of Jakarta, where many Japanese companies are located, has caused delays in importing and exporting auto parts and finished vehicles. The full-scale operation of the port of Patimban is expected to solve these problems," said NYK announcing its investment.
The PT. Patimban International Car Terminal (PICT), opened in December 2021 as part of the Patimban International Port in Subang Regency, West Java, the Republic of Indonesia. The Indonesian government with a loan from Japan began construction of the new port, located approximately 75 miles to the east of Jakarta, in 2018 with an initial target of providing for 220,000 vehicles at the ro-ro facility and an additional 250,000 TEU at an adjacent container terminal. Portions of the facilities were completed in December 2020 and the auto terminal opened for full commercial operations in December 2021 being operated by Toyota Tsusho, the trading arm of Toyota Group focusing on infrastructure and industrial development.
NYK acquired a 25 percent stake in PICT, the operator of the car terminal portion of the port. Toyofuji Shipping also acquired a 26 percent share of the terminal. Kamigumi Co., a Japanese logistics company specializing in port and terminal operations, joined in the transaction acquiring 15 percent of PICT, with Toyota Tsusho retaining the remaining 34 percent.
The ro-ro terminal has been expanded to a current annual capacity of 400,000 units according to Toyota. The Indonesian government plans to continue to increase the facility to reach a capacity of 600,000 units by July 2025.
The adjacent container terminal which was not part of the transaction has an initial capacity of 250,000 TEU. The second phase of the project calls for expanding capacity to 3,750,000 TEU. Gradually they look to grow the container terminal to have a capacity of 7,500,000 TEU.
Toyota Tsusho highlights that Indonesia is an important production base and sales market in Asia for the automobile industry. The company aims to continue to contribute to the further development of the Indonesian economy.