NYK Furthers Automated Bridge Technology with Berthing Assistant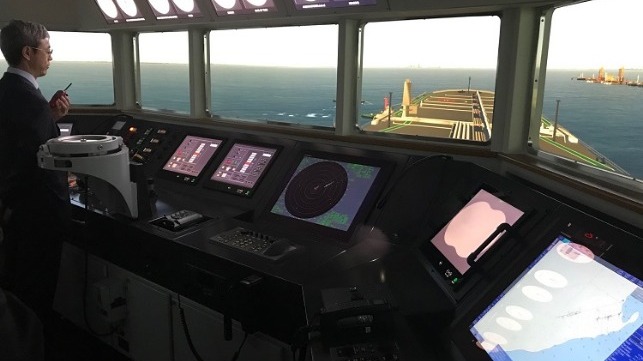 NYK has developed a system that assists seafarers during berthing operations buy indicating the exact reduction in ship speed required as the ship nears the dock.
It supports crew during the critical time when they need to provide instructions to tugs and control the rudder and engine. Such a heavy workload can lead to accidents caused by human factors, says NYK, noting near misses such as overruns and also serious accidents.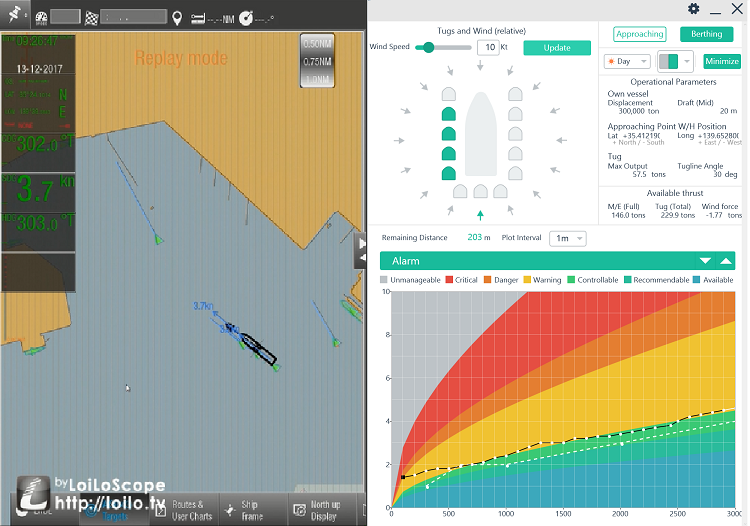 Half of maritime accidents are said to be caused by human element factors such as misjudgment by officers who operate ships in three shifts 24 hours a day. Since 2007, NYK has been studying how to improve the bridge to enhance navigational watch efficiency and decease human error.
The new berthing software system evaluates a ship's controllability and visualizes accident risks in real time by analyzing information such as distance to the wharf, ship speed, ship-performance parameters, tugboat arrangement and wind, tide and weather data.
The ship operator can use a tablet to confirm the relative position and approach speed of the vessel and to assess accident risk.
Trials on actual vessels have been conducted, and NYK plans to gradually introduce the system to its managed ships. JMS will offer it for sale within the industry.
Last year, NYK completed a new concept for a ship's bridge and employed it on a large container ship currently being managed by the NYK Group. The space and nautical instruments on the new bridge have been ergonomically arranged and designed to take advantage of IoT aspects of instruments and to improve the safety and efficiency of vessel operation.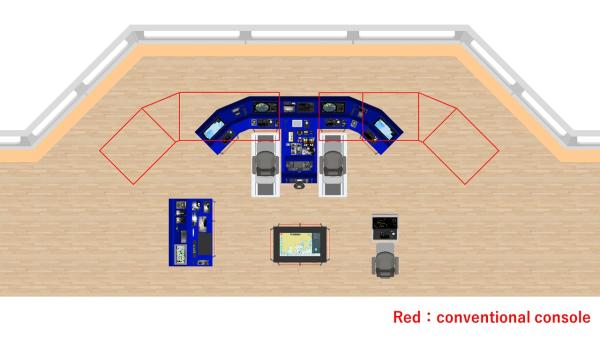 The new concept makes use of an integrated console that is about two-thirds the size of a conventional one and enables officers to check essential navigational information and navigate the vessel at the same time. The shape of the bridge has been optimized to ensure clear sight from a sitting position. A seat helps officers better grasp the situation around the ship, and a joystick type autopilot system has been adopted to help officers in a sitting position easily maneuver the vessel. A mini manual wheel has been installed on the console for steering in an emergency.
The new bridge has been equipped with larger windows, and the gap between the windows has been minimized to reduce dead visibility angles. Wipers are operated by remote control.
At the bridge wing, a narrow walkway extends outward from both sides of a pilothouse, allowing the ship to be maneuvered for entering/leaving harbor and berthing/un-berthing operation. This wing takes advantage of large windows and floor windows and is equipped with an integrated control stand that can remotely control the main propulsion, rudder and bow thruster. A multi-function display, a workstation that can conduct some tasks at the same time, such as checking and operating navigational information, the radar and ECDIS, is also located on the wings.
NYK has decided to adopt this new bridge on pure car and truck carriers and crude oil tankers and is currently considering other types of vessels.
The technology used in this system, as well as the berthing support software, is expected to be applied to the automatic shore-arriving system for manned autonomous ships that the NYK Group has been working to implement.