NW Seaport Alliance Rolls Out Truck Emissions Limits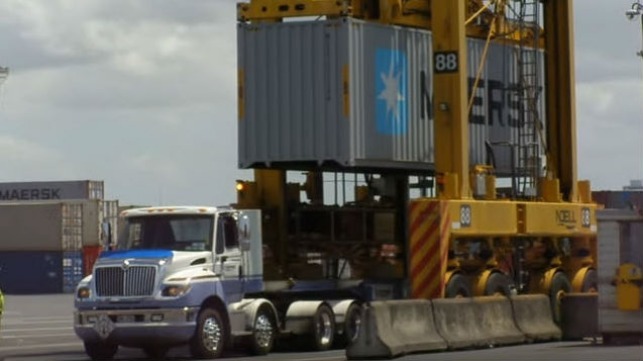 The Northwest Seaport Alliance, which represents the Port of Seattle and the Port of Tacoma, is working with short-haul truckers to implement a ban on older diesels.
The two ports, which share the bulk of Puget Sound merchant traffic, have long intended to prohibit trucks with pre-2007 diesel engines from entering their gates by 2018, and they set a compliance deadline of April 1. Short haul owner-operator drivers, who work on notoriously slim margins, protested that the requirement would raise costs and put them out of business. The drivers - most of whom are drawn from immigrant communities and earn wages near to the state minimum - staged a walkout on February 5. Shortly after, the Alliance announced that it will allow non-compliant trucks to continue to operate until December 31 if their owners apply for a special pass.
To receive this pass, truck owners must demonstrate they are in the process of complying with the standard through the purchase of a compliant truck or the installation of a retrofit to lower their truck's emissions to an equivalent level. To give drivers regulatory certainty, the Alliance affirmed that its 2007-and-later engine standard will remain in place until at least 2025.
In 2007, the EPA implemented diesel emissions requirements to cut down on particulate matter and NOx, which both have a negative impact on human health. Manufacturers generally complied by fitting exhaust filters and exhaust gas recirculation (EGR) equipment, which reinjects a portion of the exhaust into the air intake. EGR deliberately lowers combustion chamber temperatures in order to reduce NOx, with the foreseeable side effect of reducing engine efficiency and fuel economy. According to annual surveys by JD Powers, a statistically significant portion of owners reported lower fuel economy and lower reliability in engines built with this equipment. By 2010, fleet operators reported an average of 72 engine problems per 100 new trucks within the first 18 months of ownership. Engines built after 2010 have to meet more stringent emissions requirements, and many are fitted with selective catalytic reduction instead of (or in addition to) EGR; subsequent JD Powers surveys indicate higher average reliability and fuel economy for this second generation of vehicles. Given this history, many of the short-haul drivers expressed concerns that higher fuel and maintenance costs for post-2007 trucks would lower their margins, in addition to the capital expense of buying the vehicles.
Since launching the emissions reduction initiative in 2008, the ports have made efforts to cut down on truck pollution through voluntary programs, including a matching grant initiative that resulted in the replacement of over 400 vehicles. However, as of the end of last year, only about half of the 4,500 trucks serving Tacoma and Seattle terminals met the 2007 EPA standard. Local environmental and public health advocates see the mandatory ban on older diesels as the best way to reach full compliance.