NSW Ports Boosts Rail Capacity at Port Botany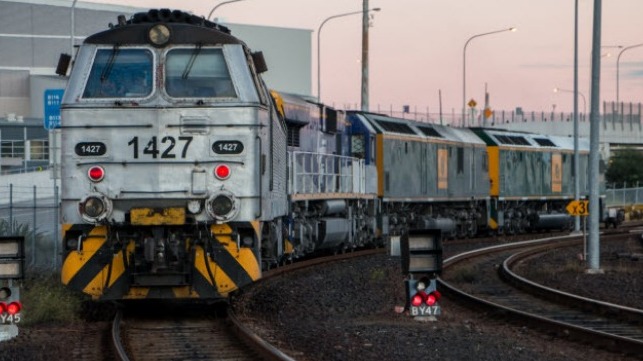 NSW Ports is set to invest in on-dock rail infrastructure capacity at each of the three container terminals at Port Botany, Australia, commencing in 2019. Through the A$120 ($88 million) million investment, NSW Ports plans to improve rail capacity to three million TEU.
The first phase of the rail investment will be at the Patrick stevedoring facility. A new rail terminal will be built over four years and will ultimately deliver one million TEU per year rail capacity. Patrick will invest A$70 million ($51 million) in rail operating equipment and systems.
Increasing rail capacity will ensure Port Botany is able to cater for recently opened intermodal facilities and those about to open and able to service regional NSW exports. The investment is also a major step forward in achieving the NSW Government's target of increasing the road to rail share of freight at Port Botany to 28 percent by 2021.
Marika Calfas, Chief Executive Officer, NSW Ports said "The growth of containers on rail is a key objective in NSW Ports' Masterplan, to cater for the growing trade needs of NSW. This investment will build greater rail capability at the port, supporting the Government's investment in completing the Port Botany rail duplication and ongoing investments in large scale intermodal rail logistics centers at Enfield and Moorebank."
Port Botany is the only port in Australia with direct rail connections. It is the state's primary container, bulk liquids and gas port. Facilities include three container terminals operated by independent stevedores. Each container terminal has an on-dock rail facility connected by a freight-dedicated rail line to existing and future intermodal hubs across metropolitan Sydney and regional New South Wales.
In time, NSW Ports will invest at the other two container terminals. The investment will reduce the growth in truck movements around the port and when fully operational, it will reduce truck kilometers traveled in Sydney by at least 10 million per year. This will save over two million liters of diesel per year which is the equivalent to a net reduction in CO2 emissions of more than 5,400 tons a year.
To fund the investment, NSW Ports will implement an increase of $3.08 per TEU in wharfage fees on full imports and exports from July 1, 2019.
Work on Phase 1 will begin next year and is planned for completion by 2023.