Norway Nominates Another Autonomous Ship Test Area
The Norwegian Maritime Directorate has nominated a second area to be used for testing autonomous ships. The Coastal Administration, the Maritime Directorate and a consortium led by GCE Blue Maritime on Møre signed an agreement last week that enables Storfjorden and its associated side harbors to be used. Trondheimsfjord was approved as a test fjord in 2016.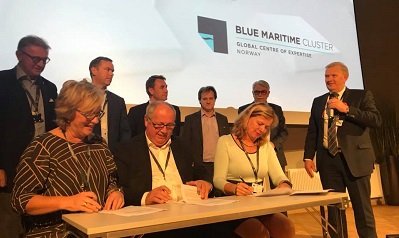 Storfjorden is close to 14 shipyards and 20 shipping companies, several of which already use the area to carry out tests on newly-built ships. In addition, a range of sensors for measuring wind and power conditions have been set up in connection with the planning work for a new bridge between Sulesund and Hareid.
Rolls-Royce Marine has been among the driving forces for the new agreement. "Trondheimsfjorden and Storfjorden are both well located near important technology lakes. In Trondheim, we work closely with NTNU and other companies on research and development. In Ålesund, we have a lot of simulators for new technology, with the Storfjord area located just outside the window," says Asbjørn Skaro, Director of Digital & System in Rolls-Royce Marine.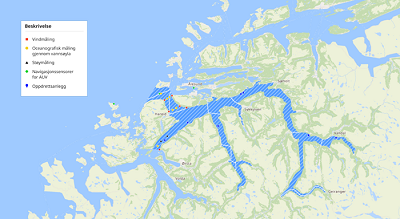 In September, Rolls-Royce revealed plans for an autonomous, single role, naval vessel with a range of 3500 nautical miles. The 60-meter vessel concept is capable of operating beyond the horizon for over 100 days, will displace 700 tons and reach speeds above 25 knots. It is designed to perform a range of single role missions, for example, patrol and surveillance, mine detection or fleet screening.
Rolls-Royce has created what it believes to be the world's first Intelligent Awareness System combining multiple sensors with artificial intelligence, to help commercial vessels operate more safely and efficiently. Significant analysis of potential cyber risks is also being undertaken to ensure end-to-end security.
On Tuesday, Rolls-Royce signed a deal with Google to develop further its intelligent awareness systems. The agreement, believed to be the first in the marine sector, was signed at the Google Cloud Summit in Sweden. It allows Rolls-Royce to use Google's Cloud Machine Learning Engine to further train the company's artificial intelligence based object classification system for detecting, identifying and tracking the objects a vessel can encounter at sea.
The Norwegian consortium also includes Vard Group, Ulstein Group, Fiskerstrand Verft, Skipsteknisk, Kleven Maritime, Havyard Group, Inmarsat Solutions, Ålesund Region Port Authority, Stranda Hamnevesen KF, Offshore Simulator Center, Havila Shipping, Fjord 1 and NTNU in Ålesund.
The Norwegian Maritime Directorate claimed as early as 2015 that it wanted Norway as a flag state to be the first to get unmanned ships on the market.