North Korea Launches Ballistic Missiles in Response to U.S. Sub Visit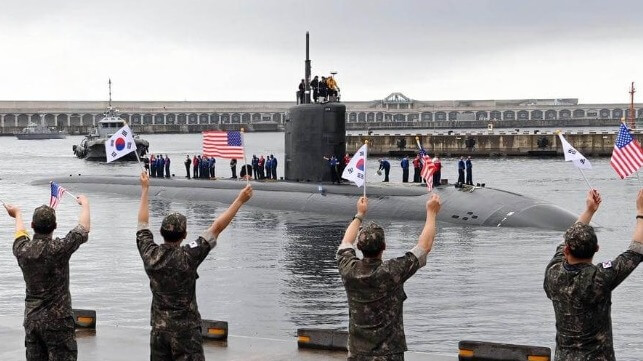 Nuclear-powered submarine visits are becoming a regular part of American diplomacy in South Korea, and North Korea has quickly established a pattern of responding with missile test launches. On Monday, the nuclear-powered attack sub USS Annapolis arrived at a Korean base on Jeju Island, marking the third U.S. Navy submarine visit to South Korea this summer. Pyongyang swiftly responded by launching two ballistic missiles into the Sea of Japan, according to South Korean and Japanese military assessments.
"As we said with respect to previous ballistic missile launches by North Korea, those launches are in violation of multiple UN Security council resolutions, and we condemn them, and would urge North Korea to refrain from such escalatory actions," said U.S. State Department spokesman Matthew Miller in a press briefing Monday.
Annapolis' visit is the second U.S. Navy sub port call in South Korea in a week, and the third since June. On July 18, the nuclear-capable ballistic missile sub USS Kentucky surfaced and entered the port of Busan, escorted by two U.S. Navy destroyers. It was the first time that an American SSBN has called in South Korea in 40 years, and North Korea responded to the occasion by test-firing ballistic and cruise missiles.
A near-sister ship, the conventionally-armed USS Michigan, arrived in Busan in June. North Korea launched two ballistic missiles into the Sea of Japan on the day before her arrival.
U.S., Japan and South Korea have all lodged protests with the North Korean government over these missile launch excercises. According to Miller, North Korea has not responded to U.S. inquiries.
The State Department is also attempting to make contact with Pyongyang to determine the status of a U.S. Army private who fled across the border into North Korea last week. According to the Army, Private Travis King, 23, had been held in a South Korean jail on charges of assault after resisting arrest by local police. He had been released to U.S. custody for a flight home and a court martial, but he escaped at the airport. The next day, he made his way to the famous border station at Panmunjom, U.S. officials said. Disguised as a civilian, Private King joined a tour group, then ran between buildings at the border crossing and entered North Korea. He has not been heard from since but is believed to be in North Korean custody.
"I'm not aware of any new communications [from the North] other than those that happened in the very early hours or early days after he went across the border," said Miller on Monday.
King is the first American in five years to disappear into North Korea. In previous incidents, Pyongyang has often held U.S. citizens until it is diplomatically advantageous to release them, either in exchange for concessions or as a gesture of good will.