NGO Seeks Support for Futuristic Catamaran Design for Migrant Rescue Vessel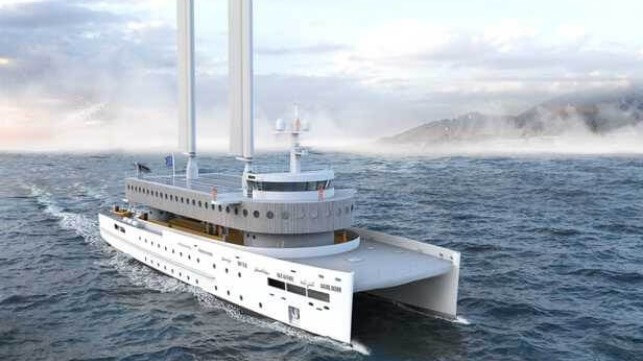 As European authorities intensify a crackdown on search and rescue (SAR) ships and struggle with a solution for the migrant crisis in the Mediterranean, the non-profit organization SOS Méditerranée is seeking support for a futuristic vessel that it plans to use to rescue migrants in the central Mediterranean.
This week the NGO along with French firm VPLP Design has put their unique design on display in the heart of Paris on the plaza in front of the famed Pompidou Center. They conducted a presentation at the center and are offering virtual tours of the vessel each day between October 17 and 22.
VPLP reports they started developing the design in 2020 and first presented the concepts in 2022. It is a futuristic catamaran that incorporates sea-going capabilities with a humanitarian mindset and is being promoted as a pioneering tool for the mass rescue of migrants. Known as Navire Avenir, the rescue vessel design was developed based on the traumatizing accounts of migrants, with the ultimate aim being to offer rescued migrants "care, attention, and friendship."
Currently, a rag-tag fleet of small, older vessels patrols the Mediterranean to conduct rescue missions. The best of them are converted offshore support and supply ships and none of them have the facilities required for large rescues and to address the humanitarian needs of the people they are finding often on small, overcrowded, makeshift boats.
The Navire Avenir has been described as the first in a European fleet designed specifically for high sea rescue. It is the result of collaboration with rescue groups and individuals including survivors, engineers and naval architects, caregivers, cooks, and lawyers.
"Considering the current migrations and those to come, it's crazy that mankind hasn't yet developed suitable tools for what the members of SOS Méditerranée call 'mass rescue'," said Sébastien Thiéry, action coordinator for the non-profit organization PEROU (Pôle d'Exploration des Ressources Urbaines).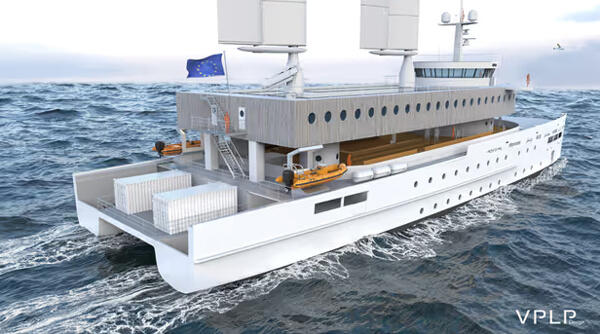 The design they developed is for a 226-foot catamaran which would have two masts standing each nearly 20 feet and two sails as well as an electric motor. There would also be nearly 4,000 square feet of photovoltaic panels to provide solar power. SOS Méditerranée envisions deploying the ship starting in 2025 in the international waters off Libya or other areas where migrants are in danger.
The vessel is specially designed for the purpose with facilities to support a reconnaissance aircraft, satellite search devices to help locate the migrants, and a helicopter landing pad. There would be four semi-rigid rescue boats and two stern ramps to deploy the rescue boats rapidly, even in rough weather. There would be cabins for 36 permanent crew aboard the vessel.
The vessel would have accommodations for 372 people, including 52 sanitary facilities, 38 showers, a shelter with bunks for the 372 people as well as 80 additional places on deck. It will have a fully equipped and air-conditioned hospital.
They are currently working on raising funds to build the vessel. They anticipate it would cost nearly $30 million. They have not yet selected a shipyard to build the vessel.
The presentation of the Navire Avenir design comes at a time when SOS Méditerranée and other migrant rescue NGOs are facing increasing pressure from European authorities, which are determined to crack down on their operations amidst a rising number of immigrants attempting to cross the Mediterranean. This year, more than 2,000 people have been reported dead or missing along the Central Mediterranean route compared to 1,400 in 2022, according to the International Organization for Migration. Migrant deaths along the route, which have reached their highest level since 2017, account for more than 75 percent of casualties in the entire Mediterranean over the past 10 years.