NGO Files Complaint Against UK Insurers Over "Dark" Fishing Fleet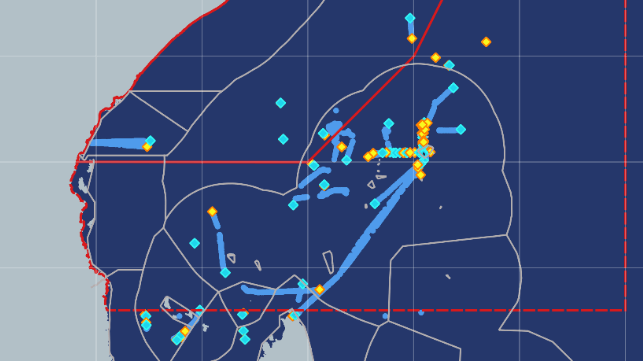 A London-based NGO has flagged three insurers for allegedly providing coverage to fishing vessels that frequently operate with AIS turned off, a common sign of illegal, unreported and unregulated fishing (IUU fishing).
In a complaint filed with the UK Financial Conduct Authority and Bank of England's Prudential Regulation Authority, the Blue Marine Foundation claims that three insurers have provided cover for nearly four dozen EU-flagged fishing vessels that regularly operate "dark" in the Indian Ocean.
The filings draw on a research study that Blue Marine commissioned from consultancy OceanMind in 2022, which looked at the fishing patterns of French- and Spanish-flagged tuna purse seiners in the Western Indian Ocean. OceanMind found that "comparisons of AIS transmission with reported areas of catch-effort . . . suggest that significant fishing activity has been undertaken by these flag-states without associated use of AIS." The patterns of AIS switch-off occurred in and around the EEZs of multiple littoral states, and the activity did not significantly correlate with the Somali piracy high risk area, where vessels of all kinds disable their AIS for safety reasons.
AIS switch-off is lawful for rare safety reasons, as above, but IMO guidelines mandate its use under normal operating conditions. Spain and France both require vessels flying their flags to broadcast AIS. However, the fleets under study operated "dark" for the majority of the time, and one particular vessel went without AIS continuously for nine months. Since switch-off may be associated with IUU fishing, this has potential implications for the sustainability of fish stocks in the Indian Ocean, where two out of three tuna fisheries are currently overfished.
"Insurers might be insuring vessels that are deliberately breaching the AIS laws of the flag States and countries whose waters they access, and thus, they may be indirectly enabling this illegal behavior," concluded Blue Marine in a January 2023 paper. "Insuring vessels that 'go dark' for months at a time, in areas known for illegal marine activities and near sanctioned countries, puts insurers at great risk of being caught by sanctions legislation if enhanced due diligence is not carried out."
Blue Marine wants to see insurers' due diligence processes incorporate an analysis of AIS patterns to look for signs of impropriety or noncompliance. It also believes insurers should insert contract clauses requiring "responsible and consistent use of AIS" as a condition of coverage, Blue Marine head of investigations Jess Rattle told The Guardian.