Next-Generation Technology to Personalize the Cruise Experience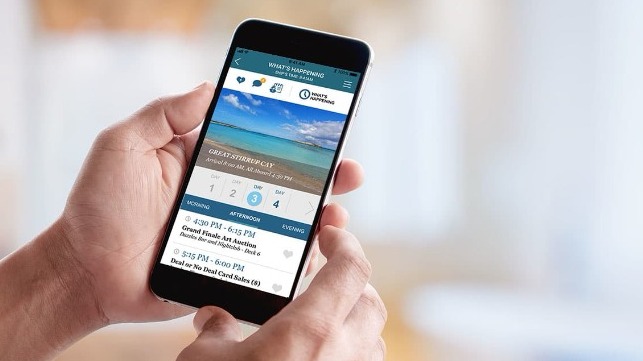 One of the hottest trends to watch in the cruise industry is the growing use of technologies to enhance and personalize the cruise experience.
This year, each of the major cruise lines will accelerate their efforts to introduce enhancements to their current technologies. Much of this will emulate the successful programs introduced by theme parks and the hotel industry that have already dramatically altered the guest experience. In fact, Carnival Corporation and others have hired technology executives from Disney who helped integrate technology into the theme park experience.
With the use of apps engrained in consumers' daily lives, they have come to expect technology as part of their cruise vacations. As such, the major cruise lines have all been part of the "app" phenomenon offering their own smartphone-based applications. To date, apps such as the Carnival HUB, Princess@Sea, Royal IQ (Royal Caribbean) and Norwegian iConcierge, have offered basic features such as permitting passengers to see the daily program, review their folio and book dining reservations and shore excursions.
Now the cruise lines are all working to reduce frustrations such as during embarkation and long lines on the ships as well as providing tools to personalize the cruise experience.
The most talked about next-generation technology is the Ocean Medallion announced in January 2017 by Carnival Corporation. The Ocean Medallion is a wearable technology, or you can carry the coin-sized device in a pocket or bag, that will be sent to passengers at home or which they will pick up during embarkation. The experience will begin on the dock where the technology recognizes you and provides a personalized welcome while serving as your boarding pass. Once aboard ship, it will do everything from unlocking cabin doors to helping passengers locate family members around the ship, personalize daily activities, order drinks from anywhere on board and even becomes a gaming platform. A new Wi-Fi network supports the technology.


The Ocean Medallion began testing in November 2017 on Princess Cruises' Regal Princess, and the goal is to complete the full ship roll out in the first quarter of 2018. Six additional Princess ships are expected to also deploy the technology at a later date.
Similar efforts are also underway at Royal Caribbean International with its Excalibur program. Royal Caribbean, which had been a pioneer in wearable technology with its Wow Band, has instead opted for a more versatile app-based technology that will work across different platforms. CEO Richard Fain recently told investors, "I think it is going to be fantastic, but I think it will take a little while for us to roll out and for the public to see just how exciting it is."
Royal Caribbean has quietly begun introducing elements of the Excalibur technology aboard its newest ships with a goal of having half the fleet active by the end of 2018. Among the features will be elements to speed embarkation, track luggage, order drinks to be delivered around the ship, reserve shore excursions, make specialty dining reservations and control everything from the door to the lights and temperature in a passenger's stateroom. Previously they had introduced high-speed Internet and Wi-Fi connectivity with satellite connections aboard their ships. Royal Caribbean also continues to explore other features and longer-term ideas such as creating a virtual personal assistant in its staterooms or suites.
Norwegian Cruise Line recently announced the next generation of its Cruise Norwegian app with, "a multitude of functions that help provide a stress-free vacation experience, helping guests make the most of their time on and off the ship." Norwegian says that passengers will be able to customize their cruise experience with the capability to view and book shore excursions, dining and entertainment reservations, purchase onboard packages as well as view or manage their existing account information. Passengers can also purchase unlimited onboard calls and messaging. These features are already available on the Norwegian Sky and will be introduced aboard the new Norwegian Bliss this summer with a goal of completing a fleet-wide rollout by the end of 2018.
Similarly, MSC Cruises is working to enhance their onboard experience with technology. Partnering with Marlink they have been testing increased throughput, including a record-breaking speed provided temporarily during the launch ceremonies for the MSC Seaside. MSC has been working for over three years on its new MSC for Me app which was also introduced with the new MSC Seaside. This app can direct passengers turn-by-turn around the ship as well as keeping them informed and helping to plan the onboard experiences.
As these technologies become more fully available, they promise to help to break down one of the oldest stereotypes about cruising, the herd mentality. Passengers will be able to customize their daily experience and avoid lines and other disturbances during their vacation. It will be a key development to watch during the coming year.