Newest Littoral Combat Ship Honors Baseball Hall of Famers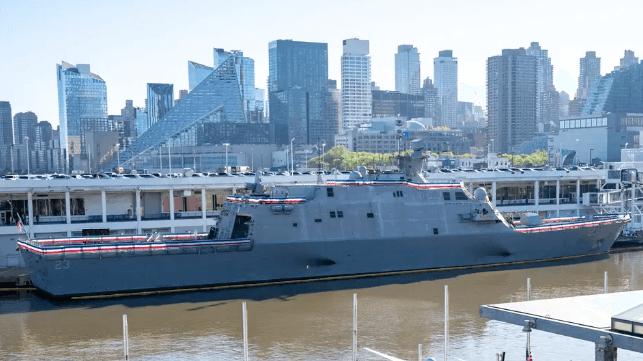 On Sunday, the U.S. Navy commissioned the 12th Freedom-variant littoral combat ship, USS Cooperstown, named after the hometown of the Baseball Hall of Fame. The name was selected to honor the 70 Hall of Famers who served in the U.S. military in wartime, including World War I, World War II and the Korean War.
"LCS 23 honors the baseball greats, who in service of our Nation, sacrificed their baseball careers for us. I have full confidence that the officers and crew of this great ship will continue to honor their legacy," said Navy Secretary Carlos Del Toro in a ceremony in New York on Sunday.
Baseball Hall of Fame player and manager Joe Torre was the ceremony's principle speaker and highlighted the ship's ties with servicemembers.
"It is critical that we honor the legacy of these Hall of Famers, not just for what they did on the field, but for what they sacrificed and what they accomplished off the field. Their legacy lives on with the USS Cooperstown and with the sailors here today and in the years to come," said Torre.
Built by Lockheed Martin and Fincantieri Marinette Marine, Cooperstown was launched in 2019, finished acceptance trials in December 2020, completed a key repair to her propulsion system combining gear, and was delivered to the U.S. Navy in September 2022. Earlier this year, before her formal commissioning, she performed a successful search and rescue off the U.S. East Coast, saving a civilian from a sailing yacht in distress.
Cooperstown will now sail to the Freedom-class LCS homeport of Mayport, Florida, where she will join her sister ships. She is the second of six LCS hulls that the Navy intends to keep. The first 10 in the series are slated for early decommissioning, subject to Congressional approval, as the Navy has canceled the development of their anti-submarine warfare system. The youngest on the list for potential deactivation, USS St. Louis, has been in service for less than three years.
The Navy has replaced the Freedom-class in future production with the Constellation-class frigate, which is based on the popular Italian-French FREMM design. Unlike LCS, the new frigate will have Vertical Launch System (VLS) cells for full-size SM and Tomahawk missiles, and it is designed for greater survivability in high-end naval warfare.