New SOV Design Addresses Emerging Needs as Offshore Wind Grows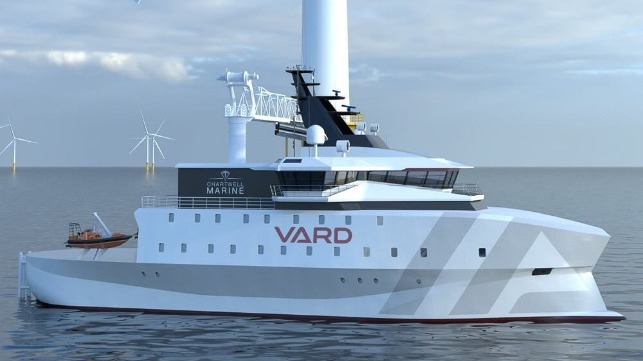 As the offshore wind industry continues to grow, demand for larger crew transfer vessels (CTVs) has surged. Naval architects Chartwell Marine reports it has developed a design that opens a new segment in the offshore wind industry, designed to address challenges as wind farms move further offshore and require larger teams of technicians operating on increasingly scaled-up turbines.
At a length of approximately 180 feet, the designers report the vessel fills a new operational role between CTVs and SOVs. Chartwell is partnering with Vard to commercialize the design, and they expect to bring it to market in 2024.
They highlight that owing to challenges in seakeeping and hospitality, merely increasing the dimensions of current CTV designs to create more capacity is not feasible. Their new design which they are calling Midi SOV they point out has been designed from the ground up to prioritize stability and operability.
During the design phase, they worked with leading firms including Clarksons, North Star, Seaspeed, and Voith, as well as gaining input from vessel owners, technical suppliers, and wind farm operators. Extensive simulation and model testing was conducted in collaboration with Seaspeed Marine Consulting and Vard conducted due diligence on the design in the summer of 2023.
According to the companies, the resulting design is perfectly proportioned for offshore wind. The vessel's size "hits the 'sweet spot' for commercial and operational viability," they said in announcing the plans. It incorporates a low waterplane shape that broadens above the waterline, effectively minimizing and dampening roll motion. This allows the vessel to remain stable during operations, facilitating walk-to-work capabilities that were previously challenging for smaller scaled traditional SOVs.
"Never before has there been such a pressing need to develop offshore wind vessels that are reactive to evolving operational and financial conditions," says Andy Page, Director, Chartwell Marine. He believes the new design offers a cost-efficient alternative to full-sized SOVs, filling a gap in the current market.
The base design of the vessel has a capacity of 36 single bunk cabins for the SPS crew, 20 crew cabins, and extensive crew facilities, which include a gym, auditorium, meeting rooms, and spacious day rooms. It can be tailored to both the European and American markets, with Chartwell noting that the vessel is designed Jones Act compliant, can be Americanized, and is ready for production in U.S. shipyards.
Addressing the emerging industry trends, the vessel can be equipped with methanol-diesel dual-fuel engines, electric propulsion, and a supporting energy storage system. Its design, balanced displacement, and advanced features position the Midi-SOV as a versatile solution for offshore wind.