New Ro-Ros Built in China to Transport Larger Wind Farm Components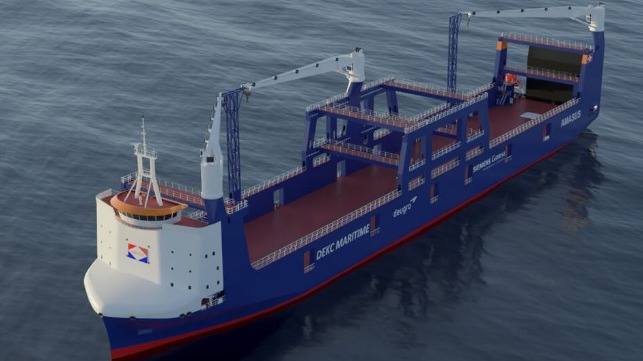 The challenges of handling the transportation of wind turbines and their components are increasing due to the demand as well as the larger sizes of the new equipment. Wind turbine manufacturer Siemens Gamesa Renewable Energy and freight forwarder deugro are expanding their relationship with shipping company Amasus Offshore for a new generation of vessels to meet these future demands.
The companies report since 2016 they have been using Ro-Ro heavy load carriers to transport the wind turbine materials. They report the approach reduces the risk, loading time, and costs through the use of the Ro-Ros outfitted with a unique gantry system.
Siemens Gamesa and deugro entered into a long-term charter agreement for two new vessels that will expand these capabilities that will be operated by Amasus Offshore. According to the companies, the ships, which will be built at Jiangsu Zhenjiang Shipyard in China and are scheduled for delivery in the spring and summer of 2025, are customized for transporting offshore wind turbine components.
The ships, which will be named Rotra Futura and Rotra Horizon, will be larger than the existing ships Rotra Mare and Rotra Vente, and expand the concepts pioneered with the earlier class to provide capabilities for larger components for wind farms. Each of the new ships will be approximately 550 feet long and have a beam of 85 feet.
Deckhouse was moved forward on the new class to eliminate line-of-sight limitations and easier cargo loading (deugro)
"In Rotra Futura and Rotra Horizon, we will have the right assets in place to meet future challenges and to perform essential operations," said Thomas Mortensen, Head of Offshore Project Transportation at Siemens Gamesa. "This new combined fleet will ensure that we have a strong foundation from which we can execute and deliver in line with our operational expectations."
To accommodate the increased size and weight of the next generation of offshore wind turbine components, the new ships will also be Ro-Ros outfitted with a gantry system. Unlike the older class, the deckhouse and accommodations will be placed forward to optimize cargo intake and operational flexibility without line-of-sight limitations. The vessels will have a stern Ro-Ro ramp, the gantry system, and three Liebherr cranes, allowing stowage of blades in three tiers, while providing flexibility in cargo composition and method of loading.
Consideration was also included in the design to enhance the environmental performance of the ships making them IMO Tier 3 compliant. Energy consumption will be reduced with an aerodynamically and hydro-optimized hull shape, a low-resistance special hull coating, and a Wärtsilä diesel engine with a 15 percent lower consumption and carbon footprint compared to today's standards. There will also be an efficient power train with a hybrid propulsion system, an exhaust gas cleaning system, and waste heat recovery.
Rotra Mare is one of the two vessels currently employed and which were recently modified for larger wind components (Amasus Offshore)
The current agreement from the three companies is employing the Rotra Mare (9,200 dwt) built in 2009 which is now 500 feet in length after having been expanded in 2022. Also employed is the Rota Vente (8,800 dwt) built in 2016 which is 464 feet in length. A year ago, both vessels underwent modifications to prepare them to also handle the larger components for wind farms. The cover over the cargo area was removed and sponsons around the hull as well as modifications to the bow and Ro-Ro ramped were made to the Rotra Vente. Both vessels returned to service transporting equipment for Siemens Gamesa and deugro under the trilateral agreement with Amasus Offshore.