New Resources on Security and Mooring Safety Released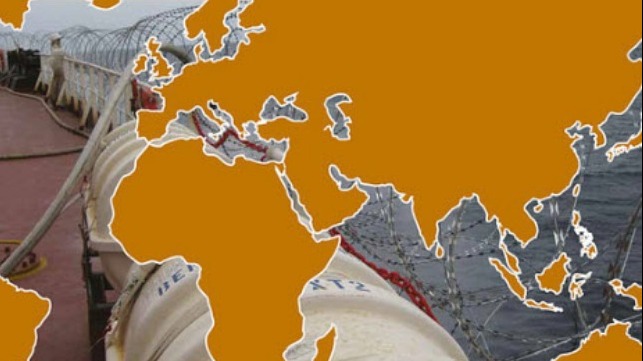 International shipping industry organizations, with military support, have launched a new website dedicated to providing comprehensive maritime security guidance to companies and mariners. The new website www.maritimeglobalsecurity.org provides security-related guidance produced by the industry as well as links to other useful maritime and military security resources.
The aim is to ease access for companies and seafarers to maritime security related information and guidance. Central to the website are new best practice guides to help companies and mariners risk assess voyages and mitigate against external threats to their safety. These are covered in three publications:
Global Counter Piracy Guidance for Companies, Masters and Seafarers is a new publication containing guidance on piracy and armed robbery that can be used by mariners around the world.
BMP5: Best Management Practices to Deter Piracy and Enhance Maritime Safety in the Red Sea, Gulf of Aden, Indian Ocean and the Arabian Sea contains guidance for region-specific threats.
The third edition of the Guidelines for Owners, Operators and Masters for protection against piracy and armed robbery in the Gulf of Guinea region is also provided.
All three publications are free to download and free printed copies of Global Counter Piracy Guidance and BMP5 will be available soon.

The authors for BMP5 are BIMCO, ICS, IG P&I Clubs, Intertanko and OCIMF. The authors for Global Counter Piracy Guidance are BIMCO, ICS, IFSMA, IG P&I Clubs, Intercargo, Intermanager, Intertanko and OCIMF.
OCIMF Releases Updated Mooring Equipment Guidelines
OCIMF released Mooring Equipment Guidelines, Fourth Edition on June 28.
Originally launched in 1992, Mooring Equipment Guidelines is the industry standard publication for mooring.
The fourth edition addresses questions raised by readers since the third edition was published in 2005. The technical content has been thoroughly reviewed and updated and written in an easy-to-understand format. The new edition contains guidance to enhance the safety of mooring, including a human-centered design approach to mooring arrangements and increased focus on the use and understanding of mooring lines and tails.
The publication is the result of a multi-disciplinary working group representing various shipping trade organizations, mooring line manufacturers, equipment suppliers, shipyards and OCIMF members. It is supported by a website, which introduces new terminology and addresses frequently asked questions – www.ocimf.org/MEG4.
Key updates include:
• Updated and expanded guidance for the purchasing, testing, management and retirement of mooring lines and tails.
• New tools to help operators manage equipment and lines from design to retirement: the Line Management Plan and Mooring System Management Plan.
• New chapters on human factors, berth design and fittings, ship/shore interface and alternative mooring technology.
• New terminology to describe the strength of mooring lines and equipment.
• Updated wind and drag coefficients.
The book costs £325 and is available from Witherby Publishing Group (www.witherbys.com).