New Hybrid Tug at Port of San Francisco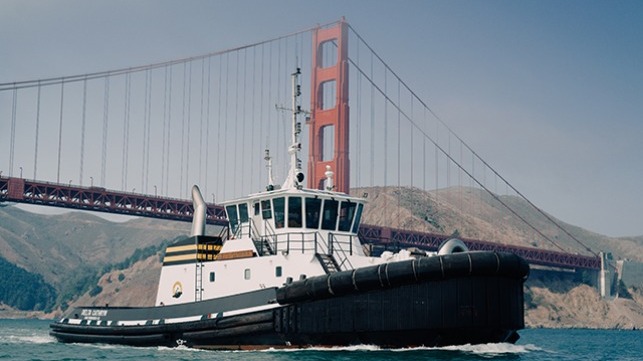 Rolls-Royce Marine is partnering with Baydelta Maritime, Nichols Brothers Boat Builders and Crowley Maritime's naval architecture division to deliver the first ever Rolls-Royce hybrid tugboat. It will be deployed in Baydelta's ship assist and escort operations at the Port of San Francisco in early 2019, and Rolls-Royce says that it will have improved towing performance, better fuel efficiency and enhanced escort capabilities relative to its conventionally-powered peers.
"Baydelta Maritime is a long-standing customer for Rolls-Royce, but this order is of particular significance because it marks our first Rolls-Royce Hybrid System for a tug. The tug will provide improved fuel efficiency and emissions," Erik Larsen, Rolls-Royce vice president for tug and fish in the Americas. "The key benefit operating these thrusters in a hybrid configuration is that it reduced the power requirement. Typically, a tug of this size would need a power output 2500kW. The hybrid arrangement allows operators to achieve the required bollard pull from a smaller engine. It provides greater operational flexibility."
Foss Maritime pioneered the use of hybrid tugs in 2008 with the Carolyn Dorthy, a Dolphin-class tractor tug augmented with lead-acid batteries. It was built with support from the Port of Los Angeles and the Long Beach Board of Harbor Comissioners. Foss followed up that effort with the Campbell Foss, a second-generation vessel built with lithium polymer batteries. Both tugs have since undergone a refit and upgrade with the installation of new, modern battery packs.
Those early experiments have inspired others, like Robert Allan's triple-thruster, hybrid-powered Rotortugs, three of which are in use by Kotug at the Port of Rotterdam. The Swedish port of Luleå has also ordered a Robert Allan hybrid tug with equipment from a Rolls-Royce competitor, and it will take delivery in early 2019.