New Expedition Cruise Ship Capable of 40 Days Without Resupply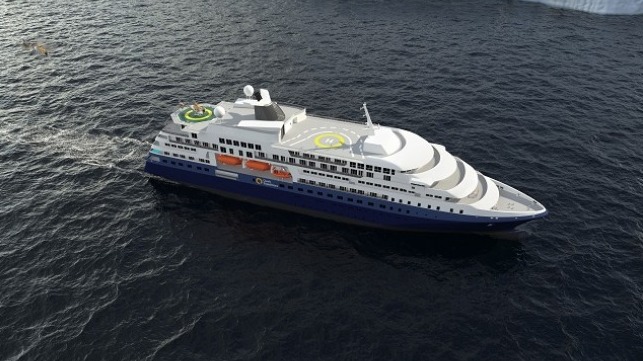 Quark Expeditions has ordered a new expedition cruise ship designed for 40 days operation in polar regions without the need to resupply.
The vessel will be built by Croatia's Brodosplit to a design by Sembcorp Marine subsidiary LMG Marin. When launched in 2020, the 200-passenger ship will offer an unparalleled expeditionary capability, says Quark Expeditions. The extended range, in combination with two helicopters, will make destinations such as the Ross Sea and the remote western Antarctic "Phantom Coast" safely accessible.
"This ship will be more than just a ship; it will be an unrivalled operational base for polar expeditions," said Andrew White, President of Quark Expeditions.
"We have dimensioned the vessel's tanks and provisions space as well as water making capacity such that we can carry enough fuel, make enough water and store provisions to comfortably last 40 days without having to visit a port to re-supply or discharge. We have also incorporated environmentally friendly waste handling systems for garbage (including a gasifier, as well as traditional compacting and crushing facilities) and a sophisticated grey and black water (sewage) storage and treatment system such that any waste water discharge will be clean."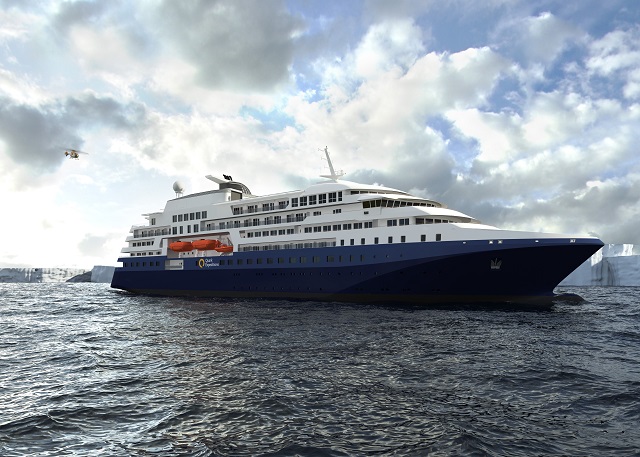 The 13,000 gross ton Polar Class 6 vessel will be 127.9 meters long, with a draft of 5.1 meters and a beam of 21.5 meters. She will be fully Safe Return to Port compliant under DNV GL classification rules and will feature 13 fully redundant critical systems, twin propellers powered by four engines in two separate engine rooms and a fully operational emergency bridge.
"This means that even in the unlikely event that we are unable to use one engine room and are reduced to operating on one engine, as per Safe Return to Port rules, we will be able to travel 1,450 nautical miles at six knots in Beaufort force 8, while maintaining an environment onboard that is warm, comfortable, sanitary and able to feed and provide water to passengers until arrival at a safe haven."
The two helicopters will allow for quicker emergency medical evacuation, and, unique to Quark, all expedition operations will be run by Quark Academy-trained expedition staff. The vessel has capacity for 116 crew.
To make the most of the off-ship experience and allow for faster and more opportunistic landings, 20 Zodiacs will be rapidly deployable from an internal zodiac hangar with four embarkation points. For flightseeing, heli-skiing and to access places too remote for Zodiacs, unique to its class, the ship boasts two simultaneously operable helidecks.
Quark specializes in polar exploration and boasts a long history of polar firsts, from the first-ever tourist transit of the Arctic's Northeast passage to the first commercial passenger circumnavigation of Antarctica. "Exploration is in our DNA," says White. "With this new ship, we are looking forward to decades more of exploration, creating legions of polar ambassadors and a whole new series of polar firsts."