New Class of American Coastal Cruise Ship Launches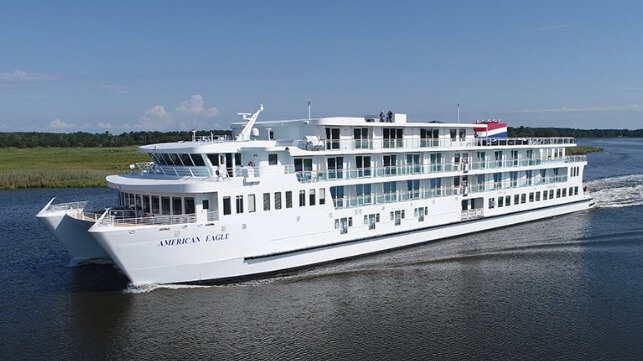 American Cruise Lines is ready to launch a new class of American coastal cruise ships with its Coastal Cats. The first of the vessels, American Eagle, recently completed sea trials and is now repositioning to Massachusetts for its August 14 maiden voyage.
Announced in 2022, the new class of ships is called a go-anywhere ship specially designed for the U.S. coastal cruise market. The ships feature an innovative hybrid catamaran design which gives them a unique near-shore operating versatility. The ships measure 241 feet in length with a 56-foot beam and shallow draft. Each ship has four passenger decks.
According to the company, the unique design incorporating the catamaran bow creates ships stable enough for the Alaska Inside Passage but small enough for New England harbors or operating along the Atlantic Intercoastal Waterway. Plans call for the ships to operate 100 percent U.S. itineraries, with the first ship sailing along the U.S. East Coast.
"American Eagle embodies our continued commitment to building new small ships to explore America's rivers and coasts," said Charles B. Robertson, President & CEO of American Cruise Lines. "It is the flagship in American Cruise Lines new series of small Coastal Cats, which are unlike anything else available in the U.S. market. American Eagle and her sister ships will change the landscape of possibilities for small ship adventures around the U.S.A."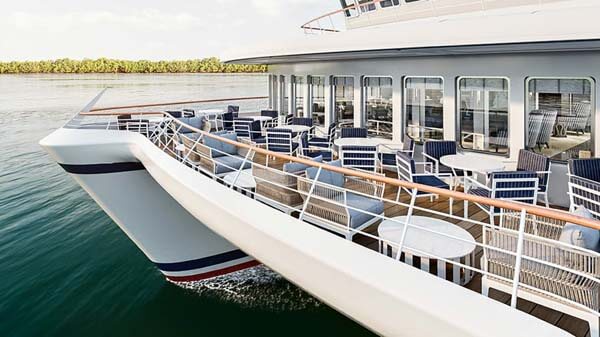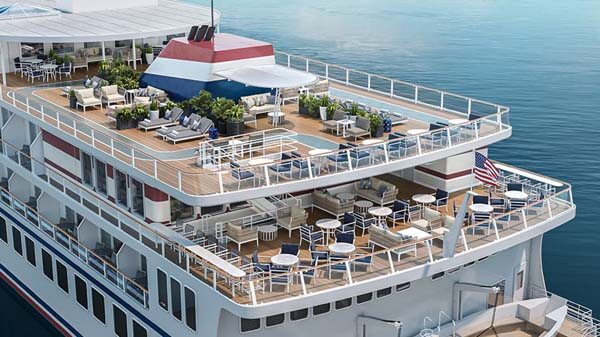 The ships are being built by Chesapeake Shipbuilding in Salisbury, Maryland, another company controlled by the Robertson family. Construction on the American Eagle and her sister ship American Glory, due to enter service in November, began in 2022. The company currently has a total of five of the ships on order due for introduction over the next two years and plans to build a total of 12 Coastal Cats. The ships will be registered in the U.S. and operate with an all-American crew.
Each ship accommodates 100 passengers in 56 staterooms most with private balconies. They offer similar luxury features to the larger cruise ships, including a main restaurant, casual café, large lounge with a 270-degree view, outdoor observation areas, and a fitness center. They carry a tender and are equipped with kayaks and other activities related to the itineraries.