New Bucket Technology Could Slash Offshore Wind Costs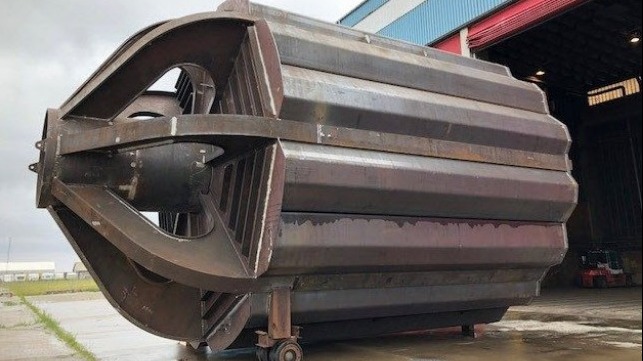 Siemens Gamesa is working with Universal Foundation to test an offshore wind foundation suction bucket concept that could cut installation costs by 40 percent.
The consortium including Siemens Gamesa, Universal Foundation, Aalborg University, Fred. Olsen Windcarrier and Offshoreenergy.dk has been awarded $4.4 million by the Energy Technology Development and Demonstration Programme via the Danish Ministry of Energy, Utilities and Climate. The partnership aims to complete an offshore trial installation after having built and eight meter by eight meter prototype.
The new concept merges the noise free installation advantages of suction buckets with industrialized fabrication methods using coil steel instead of classical plate steel. The fabrication method was originally developed between Siemens Gamesa and the Danish steel specialist Ib Andresen Industries for application in onshore towers.
"By applying this innovative fabrication method to suction bucket technology in offshore wind, the steel plate thickness can be reduced to below 20mm, compared to today's typical thickness of 30-40mm for this type of foundation, said Finn Daugaard Madsen, Project Manager, SiemensGamesa. "This means use of lower costs steel with higher supply availability. The assembly process is much more suitable for high volume manufacturing, and hence supply bottlenecks can be eliminated and costs reduced. A key element is to ensure the structural integrity of the foundation both during installation and operation."
The aim is to mature the concept towards full commercial scale.
In March this year, Universal Foundation and Hitachi Zosen teamed up to push competitive offshore wind in Japan. The cooperation is focused on a feasibility study to assess the application of bucket technology for a Japanese offshore wind power generation project.
Hitachi Zosen is executing the works in partnership with Kyoto University (comprising of Kyoto City, Kyoto University, Kyoto University) and Toyo Construction. The decision to engage Universal Foundation in the feasibility study was based on a comparative assessment of various foundation types for a wind farm of 15 wind turbines.