Navy Drops Homicide Charge Against USS McCain's CO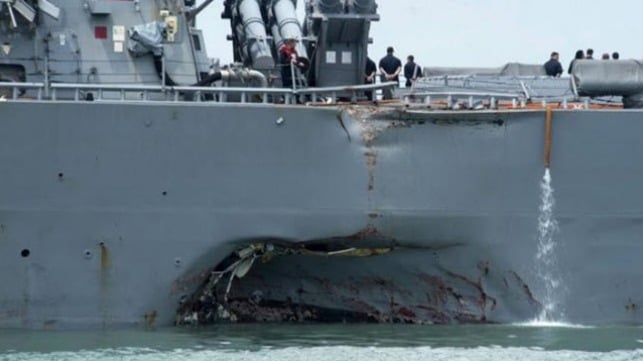 The U.S. Navy's prosecutors have dropped a charge of negligent homicide against Commander Alfredo Sanchez, the former commanding officer of the USS John S. McCain, for his role in the vessel's collision with a merchant tanker last year. The accident, which took the lives of 10 sailors, occurred while Cmdr. Sanchez was on the bridge, and a Navy investigation found that watchstanders' errors were the primary cause.
The Navy announced charges of negligent homicide, hazarding a vessel and dereliction of duty against Cmdr. Sanchez last year. He now faces the charge of dereliction only, and his court martial will begin on Friday.
Cmdr. Bryce Benson, the former commander of the destroyer USS Fitzgerald, still faces one count of negligent homicide, two counts of dereliction of duty and two counts of hazarding a vessel for his role in the warship's collision with the container ship ACX Crystal. His lawyers have pushed back on the charges, and against what they describe as "the Navy's method of litigating this case through the media and other out-of-court opinions and declarations from senior Navy leaders." They allege that when the Navy commended the Fitzgerald's Officer of the Deck for "[accepting] responsibility for the role she played," the service implicitly condemned Cmdr. Benson for not taking the same course.
"A fair court-martial will expose the facts of the collision's causes and Cmdr. Benson's actions," said Benson's attorney, Justin Henderson, in a statement earlier this month.
Earlier this month, Lieutenant junior grade Sarah Coppock, the officer of the deck at the time of the USS Fitzgerald's collision with the ACX Crystal, pled guilty to charges of dereliction of duty. She was sentenced to a letter of reprimand and the forfeiture of half her pay for three months.
According to the Navy, Coppock failed to communicate with the Fitzgerald's Command Information Center (CIC); to report contacts to the commanding officer; to operate safely in an area of heavy vessel traffic; and to alert the destroyer's crew of an impending collision. The presiding judge also faulted her for losing situational awareness and failing to sound whistle signals or contact the ACX Crystal. However, the prosecution confirmed that Coppock had cooperated with the investigation and had not attempted to avoid accountability, and at sentencing the judge commended her for her forthrightness.