Moby Takes Delivery of Largest RoPax Ferry Built in China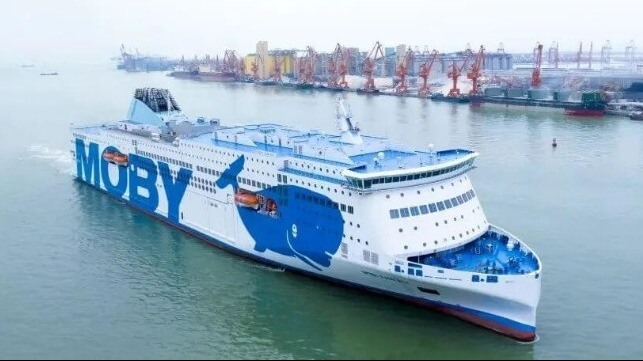 Italy's Moby which mains ferry service to different parts of the Mediterranean took delivery on the largest passenger ferry, the RoPax Moby Fantasy. At 69,500 gross tons, the ferry is one of the most advanced in the world including being built LNG-ready.
Ordered in 2019 as the first of two new larger, high-speed vessels for Moby, the ship was by China's Guangzhou Shipyard. The handover ceremony took place on April 14 in Nansha, Guangzhou and Moby reports the vessel will be departing China in the coming days. It is due to reach Italy by mid-May and will be introduced on the company's route between Livorno and Olbia. The trip from the Tuscan port of Leghorn to Olbia on Sardinia ranges between 7.5 and 8.5 hours depending on the time of day and schedule. The Moby Fantasy is capable of operating at speeds up to 25 knots and will have a service speed of 23.5 knots.
The Chinese shipbuilders are highlighting several new features incorporated into the design. The ship is very energy efficient with a low power consumption propulsion plant and equipped with the latest hybrid scrubber system. It was built fully ready for conversion to LNG-fueled operations. It is 777 feet long with a 105-foot beam and 13 decks.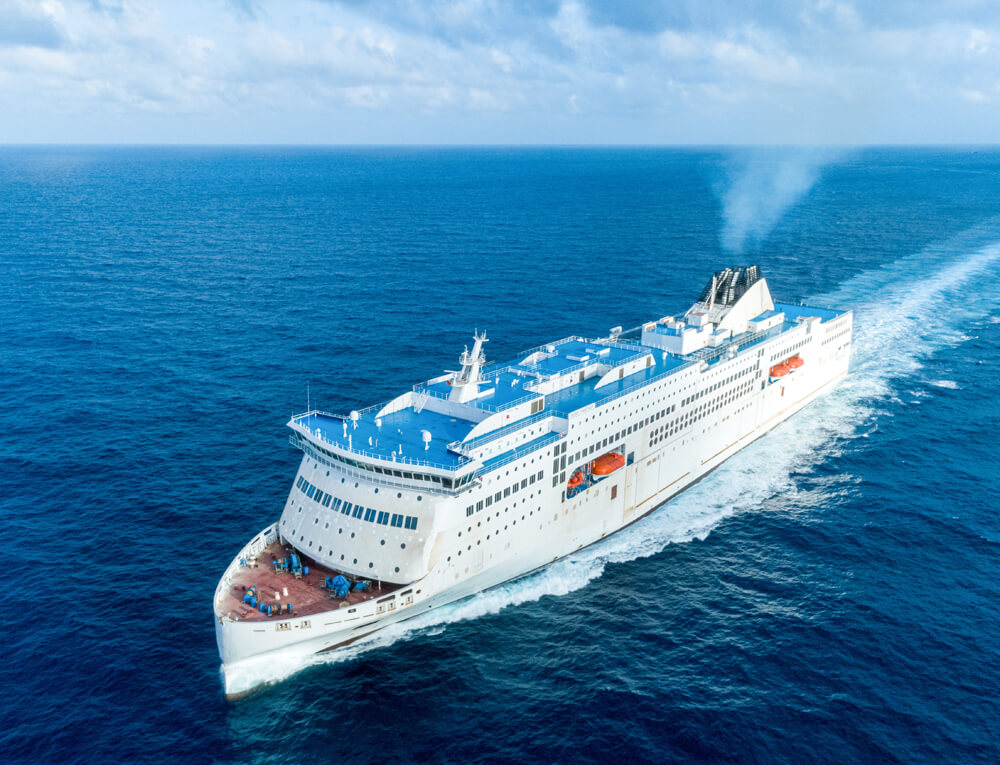 The ship also has a new vehicle loading system. From the central door at the stern, it is possible to enter the main garage. Two side doors also have access to the upper deck ramp. The ferry has a capacity for up to 1,300 cars or 300 trucks. Its total capacity is 3,850 linear meters of rolling load.
The Moby Fantasy will accommodate approximately 2,500 passengers with a maximum capacity of 3,000. Aboard there is a broad range of passenger amenities. They include two bars, one of which is outdoors, as well as a bistro and a la carte restaurant. The largest passenger space on the vessel is the 723-seat sports bar.
Accommodations include a total of 441 passenger cabins ranging from quad-occupancy to suites. Or passengers can travel in the Armchair Room, which has a total of 403 reclining seats. Each has a power socket and USB port. There is also a large luggage storage area.
Other amenities include a dedicated area for children and a video games room. There are also two comfortable promenades with armchairs and sofas for passengers to relax during the trip.
Construction on the vessel began with the first steel cut in 2020 and it was launched in November 2021. Delivery had been anticipated for 2022 but was delayed by the pandemic. She will be followed by a sistership the Moby Legacy.