On January 7, students aboard the Maine Maritime Academy training ship State of Maine paid homage to the lost crew of the sunken cargo vessel El Faro with a wreath-laying ceremony near her final resting place.
All available hands turned out for the ceremony to recognize the 33 missing, among them five Maine Maritime (MMA) graduates: Captain Michael Davidson, Class of 1988; Danielle Randolph, Class of 2005; Michael Holland, Class of 2012; Dylan Meklin, Class of 2015; and Mitchell Kuflik, Class of 2011.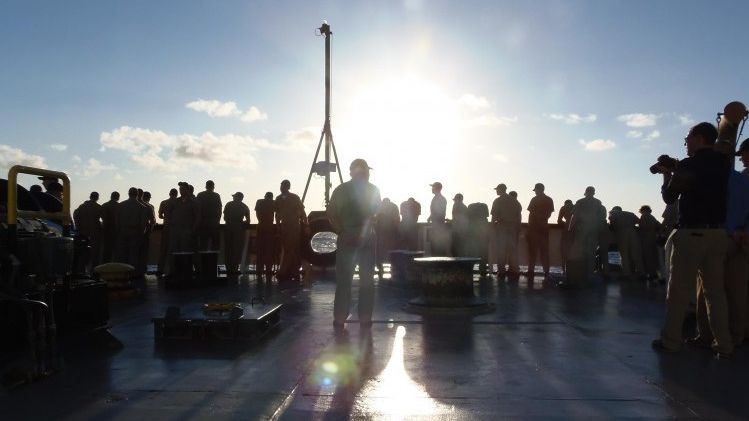 Cadets painted a moving picture of the ceremony on the shipboard blog:
"The order to present arms was given and all hands rendered honors as the wreath was eased over the rail and lowered to the water by the Cadet Masters and Cadet Chief Engineers. As the wreath floated free, the mate on watch gave a long blast of the ship's whistle to signal our farewell and the ceremony concluded. Afterward, many students remained at the rail to watch as the wreath passed from sight in what was a beautiful but somber morning."
"I was moved before it began, when I went out on deck at about 0700 and saw the American flag flying at half-mast and signal flags flying to represent the last names of the MMA El Faro crew: D-R-K-H-M," said MMA President Admiral William Brennan.
The investigation into the cause of the loss of the El Faro continues. Earlier this week, National Transportation Safety Board lead investigator Tom Roth-Roffy said that the agency may renew the search for the ship's missing black box recorder.
The search was suspended in November, following an extended examination of the vessel's separated hull and bridge sections. The bridge's 35-foot main mast was not found.
TOTE Maritime, the operator of the El Faro, faces multiple legal claims from shippers and from families of the crew. The outcome of the cases may be influenced by the investigation's findings.
TOTE said in a statement that "our focus has been on supporting and caring for the family members, loved ones, and friends of those aboard the El Faro . . . we have met with [them] here in Jacksonville, and have communicated by phone with those unable to be here, making every effort to communicate everything we know as swiftly as we know it."
On January 2, the NTSB opened the accident docket for the El Faro and released underwater images and video of the vessel, including nine underwater photos and more than 47 minutes of video from CURV-21, the remotely operated vehicle used to document the wreckage and debris field.