Migrant Rescue Vessel Released from Detention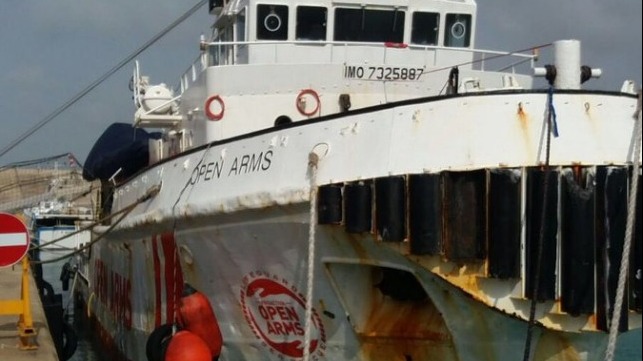 A judge in Ragusa, Sicily has ordered Italian authorities to release the migrant rescue vessel Open Arms, which was detained in Catania last month on charges of facilitating illegal immigration and "criminal association."
In an earlier hearing, a judge in Catania dismissed the charge of criminal association, and on Monday, the court in Ragusa turned down the prosecutor's request to extend the vessel's detention. The judge asserted that the Open Arms' crew acted "out of necessity" when they brought more than 200 rescued migrants to shore in Sicily instead of turning them over to the custody of the Libyan Coast Guard.
However, while the ship is free to go, the legal battle is not yet over. "It's just a first step and good news," said Oscar Camps, the head of Open Arms' owner Proactiva Open Arms. The remaining charge carries a penalty of up to three years in prison and a fine of 15,000 euros.
Camps denies allegations that his organization is involved in migration."We are not dedicated to saving refugees, we only collect shipwrecked people adrift. We can't be judged for doing something like this," he said at a book signing last month. Camps maintains that Proactiva is complying with the legal obligation to render assistance to seafarers in distress, and it merely extends the same standard of care to maritime migrants as it would to the victims of any other marine casualty.
Shortly after the charges were filed, Proactiva launched a high-profile public relations campaign to free its vessel. Humanitarian relief expert Essam Daod included an appeal for Open Arms from the stage at TED 2018; the ship's detention received coverage from Spanish outlets El Pais, Diari ARA, Salvados and laSexta TV; and over 300,000 people signed a petition to call for her release.
While advocating for the Open Arms to be allowed to depart, Proactiva Open Arms has already deployed its sailing vessel Astral to carry on with migrant rescue operations off Libya. As of Monday evening, the Open Arms was still moored at Pozzallo, Sicily.
The Open Arms put into port in Sicily after a run-in with the Libyan Coast Guard. On March 16, during a rescue operation in international waters, a Libyan Coast Guard patrol boat threatened to kill the Open Arms' crew if they did not relinquish possession of maritime migrants in distress. The Open Arms refused and headed north in search of a port of refuge to disembark her passengers. After a formal request from the Spanish flag state, authorities in Catania allowed her to dock, then detained her and questioned her crew.