Microsoft Installs Prototype Underwater Datacenter
Microsoft has deployed a prototype underwater datacenter off the Orkney Archipelago, Scotland.
Project Natick aims to accommodate the expected exponential growth in demand for cloud computing infrastructure near population centers leveraging technology from submarines. More than half of the world's population lives within about 120 miles of the coast, and by putting datacenters in bodies of water near coastal cities, data would have a short distance to travel, leading to fast and smooth web surfing, video streaming and game playing as well as authentic experiences for AI-driven technologies.
Demand for datacenter resources across the computing industry is growing exponentially as corporations increasingly shift their networks and computing needs to the cloud, and internet-connected intelligent devices ranging from smartphones to robots proliferate, says Micosoft.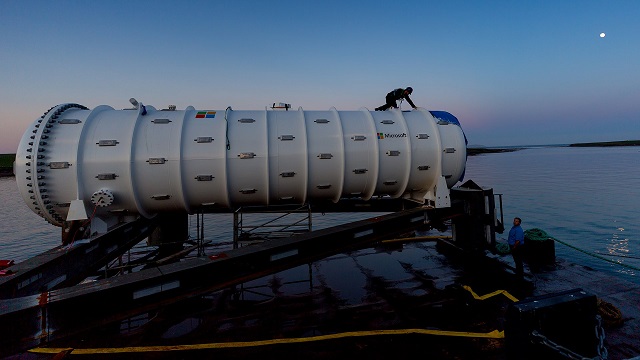 The deployment of the Northern Isles datacenter at the European Marine Energy Centre, a test site for tidal and waver energy technologies, marks a milestone in Microsoft's research effort to investigate manufacturing and operating environmentally sustainable, prepackaged datacenter units that can be ordered to size, rapidly deployed and left to operate lights out on the seafloor for years.
The Northern Isles datacenter houses 12 racks containing a total of 864 servers and associated cooling system infrastructure. It is as powerful as several thousand high end consumer PCs with enough storage for about five million movies.
The datacenter was assembled and tested in France and shipped on a flatbed truck to Scotland where it was attached to a ballast-filled triangular base for deployment on the seabed. A cable from the Orkney Island grid sends electricity to the datacenter, which requires just under a quarter of a megawatt of power when operating at full capacity.
Microsoft chose to work with Naval Group, a 400-year old France-based company with global expertise in engineering, manufacturing and maintaining military-grade ships and submarines as well as marine energy technologies. The Microsoft team presented Naval Group with general specifications for the underwater datacenter and let the company take the lead on the design and manufacture of the vessel. One key design specification was for the vessel itself to have roughly the dimensions of a standard cargo container used to move supplies on ships, trains and trucks to optimize the existing logistics supply chain.
Naval Group adapted a heat-exchange process commonly used for cooling submarines to the underwater datacenter. The system pipes seawater directly through the radiators on the back of each of the 12 server racks and back out into the ocean.
The world's oceans at depth are consistently cold, offering ready and free access to cooling, which is one of the biggest costs for land-based datacenters. Underwater datacenters could also serve as anchor tenants for marine renewable energy such as offshore wind farms or banks of tidal turbines, allowing the two industries to co-evolve.
The underwater datacenter concept was originally presented in a white paper prepared for a Microsoft event called ThinkWeek that encourages employees to share out-of-the-box ideas. 12 months after launching Project Natick in July 2014, Microsoft deployed a lab-built proof-of-concept prototype in calm, shallow waters off California. This operated for 105 days. The latest version is designed to remain in operation without maintenance for up to five years.