Methane Slip is Reduced by Half in Tests by Furetank and Wärtsilä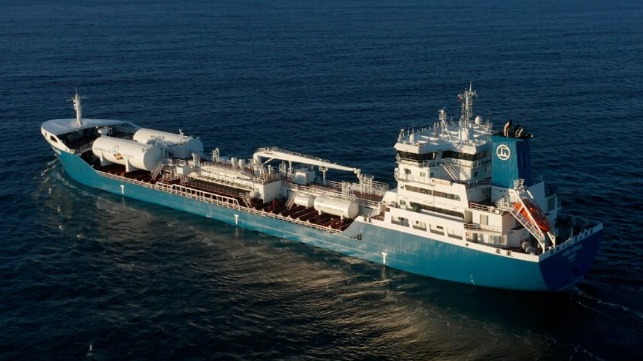 Reducing the methane slip, the release of unburnt methane into a ship's exhaust, is one of the critical challenges facing the shipping industry as it continues to expand the use of LNG-fueled ships. Environmentalists are extremely critical of shipping's use of LNG citing the far more damaging effects of methane emissions than CO2, while LNG groups argue that the emissions have already been dramatically reduced by new technologies.
Wärtsilä and Swedish shipping company Furetank are undertaking one of the efforts to develop new technologies to reduce methane slip. They are reporting promising results from tests aboard one of Furetank's vessels. They are reporting the efforts are continuing with expectations of further reductions in the next phase of the project.
"It is a tough nut to crack and the most important technical issue for us to solve," says Clas Gustafsson, Technical Manager at Furetank. The company highlights that the combustion rate is generally high and the methane slip accounts for a very small fraction of the fuel used, while highlighting the ongoing chase for new engine solutions while noting the need will only increase as the EU ETS system, stricter IMO regulations, and global restrictions on methane emissions go into effect.
Working with Wärtsilä, Furetech has been testing solutions on its new generation of chemical tankers in the Vinga series. The 18,000 dwt tanker Fure Vinga was built in 2021 and is part of a class being built at the China Merchants Jinling Shipyard in Yangzhou. New technologies have been applied to the ship as well as retrofitted into all earlier ships in the series.
The tests performed, both in the laboratory and at sea, have shown very promising results they reported. Methane slip was reduced by 45 to 50 percent.
"These are great results, far exceeding what we had expected or technically believed. The tests show a significant impact in absolute terms," reports Göran Österdahl, sales director of marine power at Wärtsilä.
Two technical solutions have been tested in Furetank's Vinga series tankers. One of them is a Greenhouse Gas (GHG) reduction package, developed by Wärtsilä for dual-fuel engines. The GHG package actively controls the engine while working in demanding conditions like maneuvering, harsh sea conditions, or varying fuel quality. Combustion is optimized, and unburned gas emissions are minimized. The other solution is the Low Load Optimization package, reducing the methane slip at low engine loads, for example during harbor operations like loading and unloading. This package actively balances the loading of each engine cylinder, optimizing the overall total engine efficiency even at a low engine load.
Furetank has ordered a total of 15 vessels in the series. The last two vessels currently on order are scheduled to be delivered in fall 2024 and spring 2025 and are being used to replace older tankers. In addition to the dual-fuel capability to run on LNG/LBG, they are designed with a battery hybrid solution. The new ships will also be fully equipped to operate cargo pumps with shore power, to further reduce emissions as ports introduce the capabilities.
They are continuing to test applications designed to reduce methane slip as they believe this will be a critical capability for the broader industry. Currently, there are 420 ships in operation capable of operating on LNG and it is expected to more than double to nearly 1,000 ships over the next five years.