Mariotti to Build Luxury Cruise Yacht for Aman and Cruise Saudi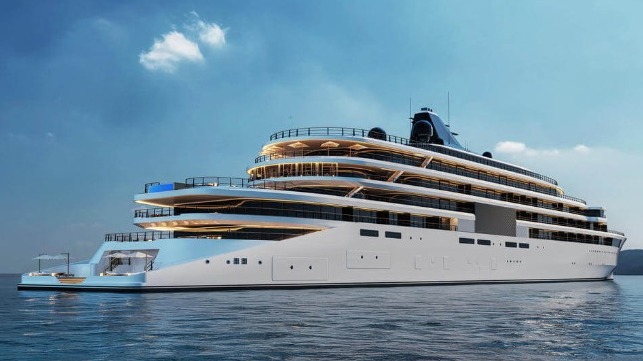 Italy's T. Mariotti shipyard has signed a contract to build a new luxury yacht cruise ship which is being promoted as the first resort at sea. The cruise ship will be built for Neptune Co., which is a joint venture between the luxury hotel and resort Aman Group and Cruise Saudi. Aman becomes the fourth luxury hotel company to enter an emerging new segment of the cruise industry.
Plans for the cruise ship, which is known as Project Sama, were announced in December 2021 as part of the launch of the joint venture. They called their plans for the cruise ship the first of its kind to launch a luxury motor yacht. According to the companies, it is a unique new concept in the ultra-luxury resort at sea niche, occupying a space in the luxury market that has not yet been explored.
The cruise ship will be approximately 600 feet long and 23,000 gross tons. It will feature just 50 suites, each with a private balcony. When they first announced the project 15 months ago, the companies said the ship will also have an array of dining options, including an informal all-day restaurant and international dining options as well as a relaxed club and lounge, and an Aman-style luxury spa complete with a Japanese relaxation garden. Other amenities for the passengers include two helipads and a stern beach club.
Mariotti reports the ship will feature its first-dual fuel power capable of exceeding existing environmental standards when the ship is delivered in 2026 and well into the future. Long known for building luxury cruise ships, including Seabourn Cruise Line's ships, Mariotti says it will use its expertise in luxury ships as well as drawing on a broad array of local suppliers and subcontractors. Mariotti is currently completing construction on the second of two deluxe expedition cruise ships, the Seabourn Pursuit, for Carnival Corporation's Seabourn Cruise Line.
"It's a privilege to have the opportunity to work with Aman, the pinnacle player in high-end hospitality," said Marco Ghiglione, Managing Director of T. Mariotti. "We are proud to offer our luxury shipbuilding experience to this challenging new venture offering a unique combination of luxury, safety, and versatility which will innovate the art of traveling at sea. This is yet another sign of the 'Made in Italy' skill and capacity to satisfy the wishes of the most demanding customers in the world."
The exterior profile and guest accommodations for the cruise ship are being designed by Yacht Designers, SINOT. Among the suppliers and subcontractors who will be working with T. Mariotti are Dewave, who will be responsible for luxury interior finishing, and Ortec Santamaria for the electrical systems.
Aman is a global leader in luxury hotels and resorts tracing its roots to its first property in Phuket, Thailand in 1988. Currently, the group operates 34 hotels, resorts, and residential developments in 20 countries. Locations range from France, Italy, China, India, and Indonesia, with the company's first U.S. location opened in New York in 2022, and locations in Beverly Hill and Miami Beach are coming soon.
Cruise Saudi, which is backed by Saudi Arabia's Public Investment Fund as a shareholder was launched to promote and grow the cruise and tourism industry in Saudi Arabia. The company has previously said it is targeting having five cruise ports operating in the country and surpassing one million cruise passengers by 2028.
Luxury hotel groups are moving to join the rapid growth in the high-end ultra-luxury segment of cruising. The first Ritz Carlton branded cruise ship entered service in 2022 with two more cruise ships on order for the line. The Four Seasons group also ordered a luxury cruise ship to be built by Fincantieri while Accor's Orient Express brand recently announced plans for two luxury, sail-powered cruise ships to be built at Chantiers de l'Atlantique.