Manila Protests China Coast Guard's Confiscation of Fish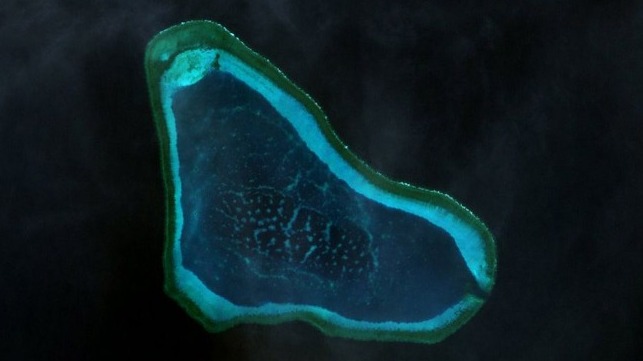 The Philippines has asked China to rein in its coast guard forces, which have been videotaped intercepting Philippine fishermen and allegedly confiscating their catch near disputed Scarborough Shoal.
According to spokesperson Harry Roque, the Philippines will not tolerate Chinese interference with fishing at Scarborough. In 2016, Beijing negotiated a pact with Philippine President Rodrigo Duterte that allowed Philippine fishermen to operate near the reef again, ending a multi-year blockade. The shoal has a rich fishery that many northern Philippine fishing communities rely on for sustenance. China has occupied the site since 2012, and it maintains a robust presence near the shoal with government and quasi-government vessels.
(Video in Tagalog)
"China should discipline its rotten coast guard personnel. This is not acceptable," said Roque at a press conference. He said that China's ambassador has promised to investigate and to punish those responsible if any wrongdoing is found.
"We will just clarify that there was no harassment, they were just insistent to take our fish but because we cannot understand each other they just say 'fish' and then they will go aboard our boat," said fisherman Romel Cejuela, who addressed the press alongside Roque. He suggested that the China Coast Guard routinely boards Philippine boats to choose "the best fish."
On condition of anonymity, several Philippine officials told AP that they had raised the same concerns with their Chinese counterparts in February. The Chinese officials also promised to investigate at this earlier meeting.
Since taking office, Duterte has sought to restore good relations with Beijing, and he has downplayed litigation over maritime claims that was undertaken by his predecessor. However, in response to recent moves by the People's Liberation Army to deploy military forces to China's manmade islands in the South China Sea, Manila has shifted once again to a harder line. Last month, Foreign Affairs Secretary Alan Peter Cayetano laid out four "red lines" for China that could trigger a war:
- Land reclamation at Scarborough Shoal. Philippine Defense Secretary Delfin Lorenzana said last year that he expects China will eventually move to build a base at Scarborough, like it has at many land features in the Spratly Chain.
- Any move against the small detachment of Philippine troops at Second Thomas Shoal. In the past, Chinese vessels have harassed the Philippine resupply ships that sustain the small garrison.
- Interference with Philippine troops who are making repairs or resupplying Philippine-controlled land features in the South China Sea.
- Unilateral drilling for oil and gas within the Philippine EEZ. While Manila opposes a Chinese-only drilling campaign, Duterte has previously announced his desire to partner with Beijing on offshore exploration in the South China Sea.