Malaysia Detains Two Tankers Accused of Trading Iranian Oil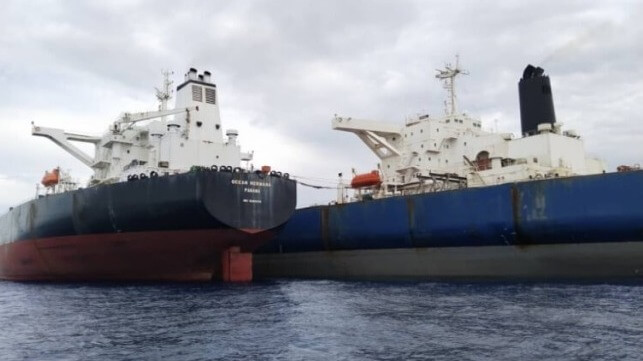 Malaysian officials are reporting that they are detaining two tankers suspected of conducting an illegal ship-to-ship oil transfer. While they are investigating the circumstances of the situation discovered earlier this week, the not-for-profit group United Against Nuclear Iran (UANI) posted online citing the vessels as the latest example of the ongoing trade in sanctioned Iranian oil by the shadow fleet of tankers.
The Malaysian Maritime Enforcement Agency (MMEA) in the Johor region on the eastern side of the Malaysian peninsular and responsible for the area around the Riau Archipelago reported that its forces have seized the two tankers. According to their account, the two tankers were initially spotted by one of MMEA's patrol boats at midday on October 24. Suspicious of the activity, the patrol boat asked for identity and information from the two tankers.
They were located at a position approximately 32 nautical miles east of Tanjung Sedili, which is located on the east side of the peninsular north of Singapore.
When the two tankers refused to cooperate, the patrol boat requested help from the Air Operations Division of MMEA. The Air Division supplied a team for a forced boarding from a helicopter to undertake an inspection of the two vessels.
"The captain of the ship involved has failed to present any authorization documents for the activities being conducted," MMEA reports. They then decided to seize both tankers around 6:00 p.m. local time on October 24.
"These transfers occur almost daily in these waters. More action and due diligence need to be taken by all the maritime players to curb Iran's sanctions evasion and oil exports," UANI said in a statement attributed to Claire Jungman, Chief of Staff for UANI.
UANI identified the two tankers that MMEA had only said were registered in Panama and Honduras. The larger of the two vessels is the Artemis III, registered in Honduras and managed by companies in China. Built in 1996, she is a 300,360 dwt VLCC. The vessel's AIS signal shows that she has been in the area since late August.
The other vessel involved in the transfer, the Ocean Hermana is registered in Panama and managed from India. Built in 2004, she is 159,100 dwt. The vessel, however, appears to be spoofing its AIS, which shows it docked in western Malaysia.
MMAE reports it is currently detaining the crew from both vessels, which includes 26 from the Artemis III and another 26 from the Ocean Hermana.
The ships are being investigated for undertaking the transfer without a permit and for anchoring without permission. In Malaysia, those crimes could result in a fine of approximately $20,900 and imprisonment of up to two years. In addition, the captains of both tankers are also being investigated for obstructing the efforts of the MMEA. That would also result in jail sentences of up to two years and a fine of approximately $2,000.