Maine Lobstermen Win Giant Carveout From Offshore Wind Development Area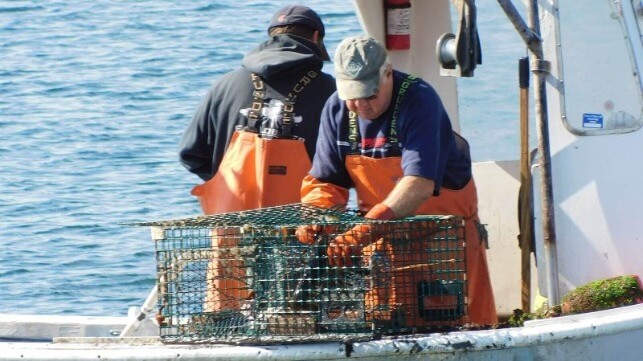 The U.S. Bureau of Ocean Energy Management (BOEM) is rolling out designated offshore wind leasing areas off the lower 48 states at a rapid clip, racing to meet the Biden administration's target of 30 gigawatts of capacity by 2030. For the latest - a 3.5 million acre parcel in the Gulf of Maine - it has decided to dodge a looming fight with fishing and environmental interests.
The newly-released Draft Wind Energy Area for the Gulf of Maine has enough room for up to 40 gigawatts of offshore wind capacity, with a focus on floating wind installations in deeper water. The size is notable, but the most conspicuous part is the part that was left out: NOAA Lobster Management Area 1, a strip along the coast that is essential to the powerful Maine lobster industry.
Large swathes of LMA 1 were included in the original call area, the starting-point chart that BOEM released in April. The Maine Lobstering Union was not interested in giving up its primary fishing grounds, and it teamed up with environmental groups to lobby BOEM to keep offshore turbines out of the management area. Maine's entire congressional delegation joined the push, including Sen. Susan Collins (R-ME), vice-chair of the Senate Appropriations Committee.
On Thursday, the union declared success: the desirable near-coastal waters of LMA 1 are out of the planning for wind development.
"This is how the process is supposed to work. The federal government listened to the concerns of our fishing communities, and now they are sending a strong signal that an offshore wind industry that fundamentally harms the hardworking Mainers making their living on the water is neither in line with Maine's values nor welcome in the Gulf of Maine," said Virginia Olsen, Executive Director, Maine Lobstering Union, Local 207.
The proposed Wind Energy Area for the Gulf of Maine, shaded in green (BOEM)
Lobster Management Area 1, in green above, has almost no overlap with the proposed Wind Energy Area (NOAA)
The proposed development area has plenty of room elsewhere for turbines, and the State of Maine is bullish on the prospects for offshore wind. In July, its legislature approved an RFP for about three gigawatts of offshore wind turbine capacity by 2040, or about half of all state power requirements. The bill contains incentives for wind developers who stay out of prime lobster territory. The RFP will be released in 2026, after anticipated federal lease sales.
"It's clear that this effort [the green transition] will involve offshore wind energy projects," said the bill's sponsor, State Senator Mark Lawrence, in a statement at its passage in July. "If we know this is coming, we need to have guardrails in place to make sure this is done right and truly benefits Mainers."
Top image: Maine lobstermen working their pots, 2016 (AK-Bino / CC BY SA 4.0)