Maersk Executive Joins Royal Caribbean to Oversee Cruise Marine Ops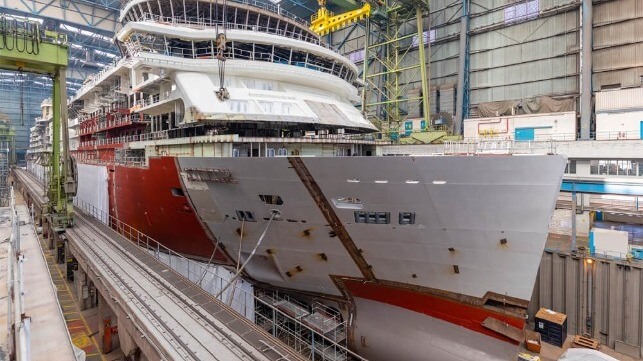 Royal Caribbean Group, the world's second largest cruise corporation, reports that it has recruited away one of the top executives for marine operations from Maersk to a newly created position that will centralize the cruise company's global and brand marine operations. Palle Laursen, who most recently served as chief fleet and technical officer at A.P. Moller – Maersk has been named executive vice president, head of marine, effective May 1, 2023, for the Royal Caribbean Group.
Long seen as an ancillary part of the shipping industry, this is another sign of the maturation of cruising and its efforts to become a leader in future efforts at decarbonization and the adoption of new technologies. Royal Caribbean has long prided itself on its programs not only in introducing "wow" elements for the passengers but also in consistently improving the efficiency and performance of each new class of cruise ship. Due to launch in the summer of 2023, the 54,000 gross ton Silver Nova currently building at Meyer Werft, marks the company's entry into LNG-fueled cruise ships and will also have the group's first fuel cells and a new generation of batteries. She will be followed by the Icon of the Seas which delivers at the end of 2023 as the world's largest cruise ship and also is fueled by LNG.
In his role at A.P. Moller – Maersk, Laursen was responsible for the fleet of more than 750 containerships, including 400 chartered vessels and 350 owned vessels, as well as chartering, technical management, crew management, safety and compliance, newbuilding activities, and engineering services. He also led Maersk's effort to have the entire fleet operating fully carbon-neutral by 2040, including overseeing the design of the first methanol-fueled containerships.
Having joined the Maersk Group in 1998, Laursen spent his professional career at the Danish shipping company. Previously, he was vice president and head of Ship Management and also held several other roles with increasing responsibilities, including head of technical services, ship engineering, and technical vessel operations.
Laursen will oversee a fleet of 64 cruise ships with Royal Caribbean's first LNG-fueled cruise ships and fuel cells due for introduction (Royal Caribbean)
"It is with great pleasure that we welcome Palle Laursen to the Royal Caribbean Group," said Jason Liberty, president and CEO of Royal Caribbean Group. "Palle has had a long and distinguished career with Maersk and is a recognized leader in the maritime industry. With more than 25 years of experience, his direct technical and operational knowledge will serve our company well, especially as we continually work to decarbonize our business."
Laursen will oversee all marine operations for the corporation's cruise ships, which include 64 ships currently in service at Royal Caribbean International, Celebrity Cruises, and Silversea, as well as the company's 50 percent joint venture TUI Cruises which operates Mein Schiff and Hapag-Lloyd Cruises. Laursen will have strategic oversight of marine operations for TUI Cruises. In addition to being involved with the launch of the 250,000 gross ton Icon of the Seas and her two sister ships, among the other innovative cruise ships under construction are two LNG-fueled cruise ships for TUI at Fincantieri and a dual-fuel cruise ship building at Meyer Turku which will be the first methanol-ready large cruise ship. Royal Caribbean has a total of 11 new cruise ships on order
Laursen, who graduated from the Svendborg International Maritime Academy in Denmark as a marine engineer, said he views this as an exciting time for the Royal Caribbean Group and looks forward to helping the company build on its operational excellence and environmental stewardship. He will report to Royal Caribbean Group's President and CEO Jason Liberty and will join the company's Executive Committee.