Maersk Center Predicts Long List of Safety Changes for Ammonia Ships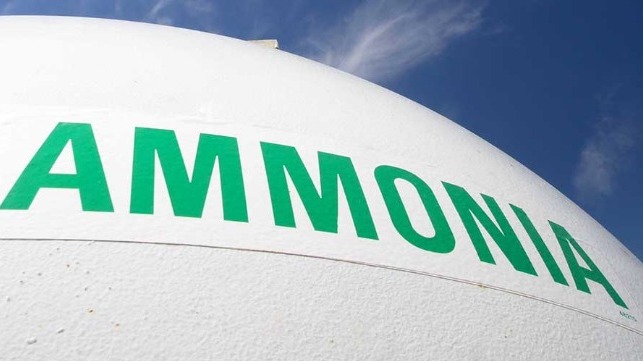 Lloyd's Register and the Mærsk Mc-Kinney Møller Center for Zero Carbon Shipping have released a long-anticipated study on the safety measures required to begin using green ammonia as an alternative fuel. The partners found that substantial reengineering and safety research will be needed to bring down the health and safety risk to a "tolerable level" for crewmembers.
The cautionary tone of the report contrasts with a previous study by the Global Centre for Maritime Decarbonization: the GCMD report concluded that ammonia bunkering's risk profile was "low or mitigable," and that pilot testing could begin swiftly.
By contrast, LR and the Center for Zero Carbon Shipping predict that a broad range of engineering and human-factors measures will be required to mitigate ammonia's risk profile. The gas is toxic to humans, and though it is already handled every day in a maritime context - as a refrigerant on reefer ships and as a cargo on ammonia carriers - it has never before been used in an engine room environment.
"To enable sustainable and scalable new energy pathways such as ammonia as a marine fuel, we must advance technological developments. However, in the eagerness to transform, we must do so without compromising safety and reliability, by employing a strong risk-based change management approach," said Claus Winter Graugaard, Chief Technology Officer, Onboard Vessel Solutions at the Center for Zero Carbon Shipping.
The Center's collaboration with LR produced a broad range of top-priority recommendations. These include:
- subzero liquid ammonia storage, which slows down gas cloud formation if a leak occurs;
- splitting up compartments containing ammonia equipment, reducing the number of potential leak points per space;
- minimizing crew presence in spaces containing ammonia equipment and setting up access controls;
- separating ammonia vent outlets from areas accessed by crew;
- installing multiple sensors of different types to detect ammonia leaks;
- adding new PPE, emergency gear and training protocols for seafarers;
- and setting up systematic change management programs to minimize human-factor risks.
Other recommendations include double-wall piping for ammonia lines; manual and automated fuel shutdown systems to handle ammonia leaks; a crew area ventilation system shutdown to keep leaking gas out of the accommodations; and a vessel-wide ammonia leak alarm with a distinctive sound.
All of these interventions would go towards keeping the odds of a fatal accident within an acceptable range. As a general guideline for how "acceptable" might be defined, the overall risk of a fatal accident on a ship is just over one per 10,000 per year in the European fleet today. IMO guidelines call for reducing the acceptable risk level to less than one per 10,000 for new ships.