Longshoreman Killed During Cargo Ops at Port of Houston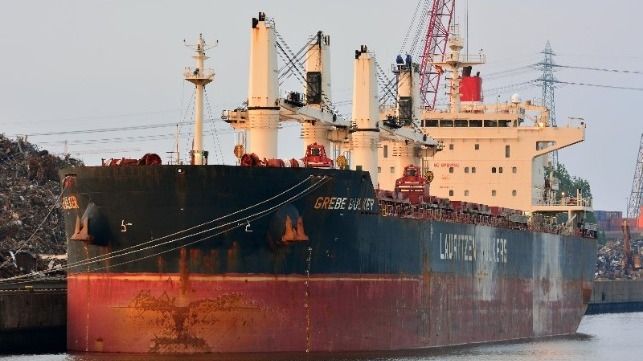 [Brief] On Tuesday morning, a longshoreman was killed in an accident during cargo operations on the geared bulker Grebe Bulker at the Port of Houston. Local media reports vary, but most indicate that the victim was crushed by a falling object.
His body has been extracted from the hold, and the county medical examiner and the Houston Police are investigating the circumstances of his death. Officials have not yet released the longshoreman's identity.
Maritime consultancy Blueoceana identified the victim as ILA Local 24 member Francisco Montoya. According to the firm's contacts, the Grebe was in its sixth day of discharge operations at City Dock 20, and workers at the number four hatch were using one of the ship's cranes to unload bundles of six-inch-diameter steel pipes. As the crane lifted a pick of six bundles, Blueoceana reports, an adjacent stack of two bundles toppled over and crushed the victim. The strength of the plywood dunnage between the bundles may have been a contributing factor in the collapse of the stack.
The last fatal accident at Port of Houston occurred in April 2017, when a truck driver was struck and killed by a rubber-tired gantry crane at the Barbours Cut terminal.