Long-Time CEO of Fincantieri Giuseppe Bono Dies at Age 78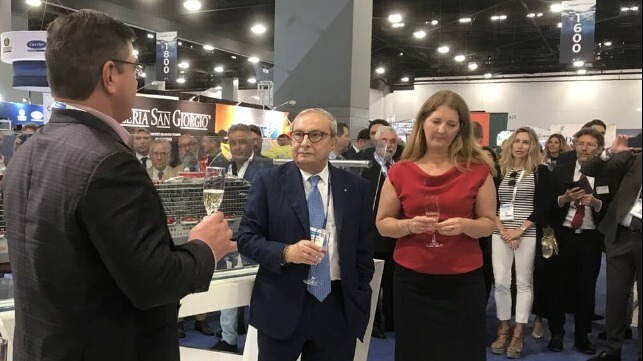 Italian shipbuilder Fincantieri announced the death of their long-time chief executive, Giuseppe Bono, earlier today. Bono who had headed the shipbuilder for 20 years is credited with revitalizing the company into one of the leaders in the industry. He retired in May 2022 after the Italian government citing his age chose not to renew his role as chief executive and selected his successor.
Prime Minister Giorgia Meloni responded to the news by posting a message on social media expressing her condolences and calling his death "a painful loss for the whole nation. Italy mourns the death of Giuseppe Bono, historical guide of Fincantieri and a leading figure in the Italian industry." Italy's Minister of Defense and Minister of Economy and Finance joined the PM in expressing their regrets and extending condolences to the family and the nation.
Bono came to Fincantieri in 2002 at age 58 after a career in industry. Italian media reports say that he started his career in 1963 in the training unit of Fiat-Finmeccanica and then went to Omeca, in the same group, before moving in 1971 to Ente Partecipazioni e Finanziamento Industria Manifatturiera (EFIM), one of Italy's largest state-owned holding companies. After Italy began the liquidation of EFIM, Bono moved to the state-controlled engineering group Finmeccanica where he rose to general manager and later managing director before being selected to run Fincantieri.
Fincantieri was building mostly government ships as well as ferries and some commercial shipping. In the late 1980s, the shipbuilder received its first order for a modern passenger ship from a cruise industry pioneer called Sitmar. The shipyards had not built a major passenger ship since the Eugenio C. delivered to Costa in 1966. Costa also placed an early order with Fincantieri in the 1990s for two cruise ships followed by the beginning of a relationship with Ted Arison and the rapidly growing Carnival Corporation.
Bono and the team at Fincantieri developed a long-standing relationship becoming the builder for nearly all of Carnival's cruise ships and in doing so becoming one of the premier builders of cruise ships. The company has built ships for most of Carnival's brands as well as other major relationships including all of Viking's ocean-going cruise ships, cruise ships for MSC Cruises, and now for Norwegian Cruise Line after building luxury ships for the company's other divisions. Since 1990, the company has built over 100 cruise ships for 18 brands. Cruise ships today account for approximately half of Fincantieri's business.
While cruise ships became the signature projects, Bono also oversaw the expansion and diversification of Fincantieri's business. The company today owns 18 shipyards including in Italy as well as Romania and the United States with Fincantieri Bay Shipbuilding and Marinette Marine as well as Vard in Norway and Vietnam. Projects range from military vessels to offshore vessels, special vessels, ferries, and mega-yachts as well as offshore and infrastructure.
Speaking of his predecessor, Pierroberto Folgiero, the new Chief Executive Officer of Fincantieri and Chairman Claudio Graziano called Bono a "reference figure for the national industry." They said he developed and carried forward a courageous and far-sighted vision, with constant attention to people, always taking up the most difficult challenges and always pursuing the interest of the country.
After seeing Fincantieri through the pandemic and guiding the company's business back Bono's tenure ended this spring. He left the company with an orderbook and backlog valued at over $24 billion.