LNG is Spared in U.S.-China Tariff Dispute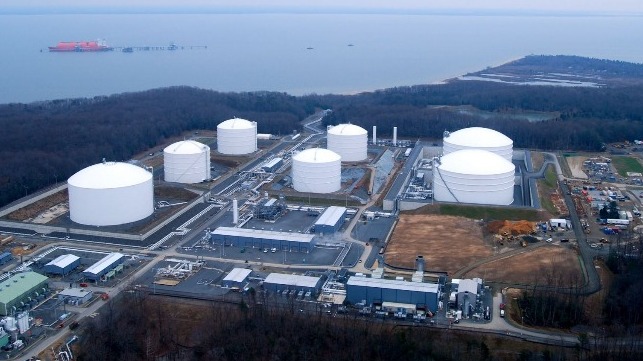 In response to U.S. President Donald Trump's announcement of tariffs on $50 billion in Chinese imports, Beijing has published a long list of American products that will be subject to 25 percent tariffs beginning in July. These exports include soybeans, dairy products, cars, oil, and propane, among other categories. However, liquefied natural gas (LNG) is conspicuously absent, and analysts with Wood Mackenzie say that this is not a mistake.
"LNG seems to be clearly excluded from the list of goods that will face tariffs," said analyst Nicholas Browne, head of Asia-Pacific gas and LNG for Wood Mac. "LNG is clearly seen as an essential good by the Chinese government. Given this, in the event of an escalation, LNG is likely to remain outside the bounds of any additional tariffs."
China is attempting to switch from coal to natural gas as an energy source for heat and electrical power, thereby reducing noxious airborne particulate matter and SOx from the burning of coal. Wood Mac estimates that newly-built American LNG plants will account for a third of the growth in global LNG supply next year and nearly half of the new supply in 2019, and China is becoming a significant consumer of American gas. The U.S. supplied four percent of China's LNG demand last year, and Browne noted that the introduction of tariffs would have posed a significant challenge for Chinese buyers as they seek to meet surging demand growth. Chinese gas consumers ran into shortages last winter as Beijing attempted to accelerate the shift away from coal, an experience that Chinese officials will seek to avoid in future heating seasons.
A tariff on oil, however, may be a way for China to send a message to the Trump administration without incurring damage at home. Suresh Sivanandam, the senior manager for Asia refining at Wood Mac, said that China accounted for more than 20 percent of American crude exports in the first quarter of the year. "We forecast US crude exports to China to increase two-fold [by 2023], on a free trade basis. Hence, the imposition of crude tariffs . . . adds a significant downside risk to our base forecast," he said. "While China could secure the crude from alternative sources such as West Africa . . . U.S. would find it hard to find an alternative market that is as big as China."
John Driscoll, the director of consultancy JTD Energy Services, added that China has another potential supplier of volume to offset any decline in U.S. oil imports: Iran, which is under American sanctions over its nuclear program. "The Chinese may just replace some of the American oil with Iranian crude," Driscoll pointed out. "That would obviously infuriate Trump."