LNG Carrier Transits Northern Sea Route in Record Time for July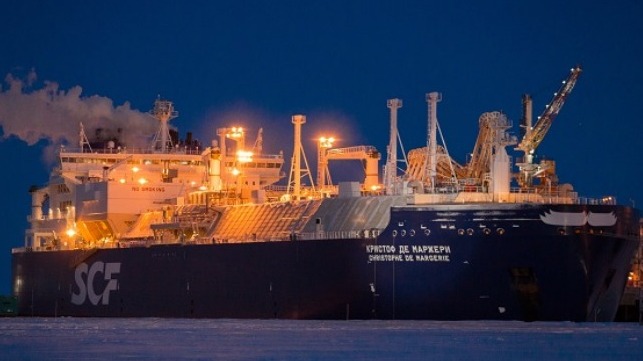 The icebreaking LNG carrier Christophe de Margerie crossed the Northern Sea Route (NSR) in a new record time for a merchant ship without icebreaker support last month. The vessel, owned and operated by Sovcomflot (SCF Group), covered the distance of 2,360 nautical miles eastward, from the port of Sabetta (Yamal Peninsula) to Cape Dezhnev (the Bering Strait), in just seven days and 17 hours.
Throughout the NSR passage, the vessel navigated independently without any icebreaker support, and her average speed was 12.8 knots.
The record was set delivering a cargo of LNG from the Yamal LNG plant at Sabetta to the port of Tangshan, China. On July 31, the vessel successfully berthed at her destination port after 18.5 days sailing from Sabetta to China. The voyage represents the beginning of regular shipments of LNG along the NSR from Russia's Arctic gas fields to the Asia Pacific.
Christophe de Margerie is the first in a series of 15 icebreaking LNG carriers ordered for the Yamal LNG to transport LNG year-round in the challenging ice conditions of the Kara Sea and Gulf of Ob. When completed, she became the world's first icebreaking LNG carrier. Her cargo capacity is 172,600 cubic meters. She can sail independently through ice of up to 2.1 meters thick, and her propulsion system has a power capacity of 45MW, which is comparable to that of a nuclear-powered icebreaker.
She can sail unassisted along the NSR westward from Yamal all year-round and eastward for six months of the year (from July to December). Previously, the summer navigation window in the eastern area of the Northern Sea Route was limited to only four months with icebreaker support.
She sails stern-first in heavy ice and therefore has a navigation bridge both forward and aft. Both bridges have 12 fully-integrated workstations to support voyage planning and navigation. Through the technology employed, the Christophe de Margerie and a fleet of more than 25 new vessels that will eventually be working on the Yamal project will be able to automatically exchange weather and ice data, information about the tracks created by icebreakers, and if needed, search and rescue information.
The Yamal Peninsula is of strategic importance to the Russian gas industry, and Gazprom's Yamal gas production center is expected to be the largest such center in Russia as it forms a replacement for the dwindling reserves of the Nadym-Pur-Taz region.
Currently, two gas production facilities are successfully operating at the Bovanenkovskoye field, which forms the basis of the Yamal center. This year will see the launch of the third and final gas production facility, which will bring the field to its design production capacity of 115 billion cubic meters of gas per year.