Libyan Forces Arrest Ship Off Derna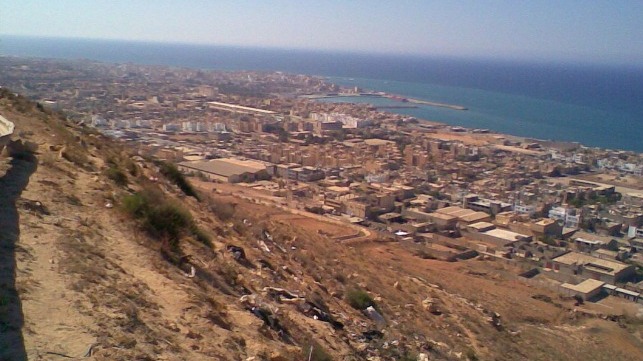 On Sunday, a spokesman for Libyan warlord General Khalifa Haftar said that an unnamed foreign vessel was seized off Sousse, a small town near Derna. The vessel's Turkish crew and Syrian captain were arrested, spokesman Ahmad Mismari told Xinhua.
"The ship's crew is being investigated and the ship's country of origin has not been identified," Mismari said. He suggested that the vessel is linked with militants in Derna, a port city that is under seige by Gen. Haftar's forces as they attempt to oust the Derna Mujahedeen Shoura Council (DMSC). DMSC is a coalition of Islamist groups, and it has held control of Derna since it drove out radical Islamic State (ISIL) fighters in 2015.
Derna is now the only city in eastern Libya that is not under Haftar's control. His forces conducted a three-year campaign to take Benghazi and succeeded in eliminating the last pockets of resistance in the city last year.
Areas under Haftar's control in blue (CT)
Haftar controls more territory than the Tripoli-based, internationally-recognized Government of National Accord. Most of his holdings are in eastern Libya, with new additions near Sabha in the nation's southwest interior. In addition to DMSC, his fighters must still contend with Islamic State, which maintains a presence in his territory.
As might be expected in Libya's complex civil war, some have raised concerns about Haftar's ascendency. Many western analysts suggest that he is not committed to democracy as a form of government and could emerge as Libya's next dictator. The GNA accuses Haftar of using mercenaries from Chad, Niger and Sudan, and it alleges that he has taken money from frozen Libyan government accounts in the UAE. In addition, the International Criminal Court has indicted one of Haftar's commanders, Mahmoud al-Werfalli, on war crimes charges.